How Water Damage Happens and How to Fix It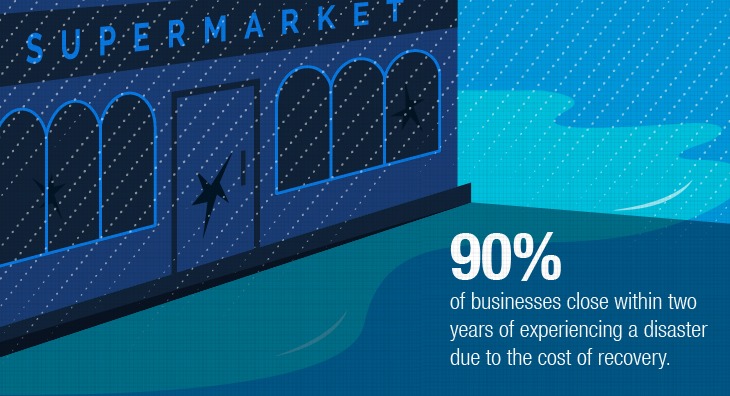 An estimated 90 percent of businesses close within two years of experiencing a disaster due to the cost of recovery, according to the Small Business Administration. Disasters come in a variety of forms, but one of the more pervasive is water damage.
You can understand why water damage is so common – and why it's expensive to recover from. Virtually every storm event – tornadoes, hurricanes, downpours and, of course, flooding – brings with it the threat of a water damage emergency. Yet despite its prevalence, water damage is routinely underestimated. Just 5 percent of policies covered through the National Flood Insurance Program are for business owners, according to the Insurance Information Institute. That's a problem, given that as little as an inch of water penetrating a home costs $25,000 on average to repair. Just imagine what the costs may be for a commercial property.
How do you clean up water damage?
The clean-up process largely depends on the situation at hand – such as how the water got there to begin with, how much water it involves and how long it's been there. The more of it, the more extensive the job will be. One of the first steps is to remove the standing water using a wet/dry vacuum. These machines work just like an ordinary vacuum, sopping up not only dirt but of course the water itself. In order to prevent the development of mold, a potentially dangerous fungus that grows wherever there's excessive moisture, the water must be thoroughly extracted. According to the Environmental Protection Agency, mold can develop in a matter of hours – not days – which is why repairing water-damaged property quickly is so important, especially for businesses that host customers on an ongoing basis within their facility.
When do you need professional water damage repair?
Because even small amounts of water can be enough to cause problems, you may need the expertise of restoration professionals right away. This is especially true if mold or mildew has already set in, floors have been damaged – in the form of warping, buckling or sagging – and pungent odors are readily apparent. Replacing floors, walls or carpeting can cost tens of thousands of dollars, but water damage restoration services can help business owners better identify what's salvageable in order to avoid unnecessary expenses.
BMS CAT is an independently owned and operated restoration company that has the tools, experience and technical know-how to handle any job – big or small.
Please contact us at [bpl_main_phone] to learn more about how we can get your business back up and running.