Tampa/St. Petersburg Florida
Water Damage Restoration, Fire & Smoke And Mold Removal Services

America's Longest-Standing Restoration Company

Non-Franchised Allows for Consistent Service
Average Employee Tenure is 10+ Years

287,000+ Jobs Performed in the Last 10 years
As residents of Tampa and St. Peterburg's beautiful cities, we are aware that our coastal location, topography, and large population make us significantly vulnerable to natural disasters, including hurricanes, floods and tornadoes.
Guardian Restoration was acquired by BMS CAT. Two of the best companies in the restoration business have joined forces to strengthen our national footprint and improve the delivery of our services both locally and nationally. With the merging of the two companies, we aim to deliver the most dependable service to our clients in the greater Tampa area. Rest assured that this will not affect your point of contact, our pricing, and our level of service.
BMS CAT TAMPA/ST. PETERSBURG
 
But don't fear, because BMS CAT is only a phone call away to provide disaster recovery services to Tampa and St. Petersburg residents. We have helped restore calm for property owners after natural and human-made disasters since 1948.
That's right. Our team offers residential and commercial emergency restoration services. Whether you are facing water damage, fire damage, storm damage, or mold contamination problems, BMS CAT has a dedicated team of professionals that offer superior restoration services 24 hours, 7 days a week.
Besides disaster recovery, we also handle commercial cleaning, controlled demolitions, biohazard cleanup, and COVID-19 cleaning and sanitization services.
When you need swift and efficient service to protect and contain any further damage from occurring to your property, it is best to select a company with a performance history of delivering quality water damage restoration services in Tampa and St. Petersburg. Our trained and certified technicians will ease your mind and get your life back to normal after a disaster.
Contact us today for a free estimate!
Reliable and
Trusted Team Of
Restoration Experts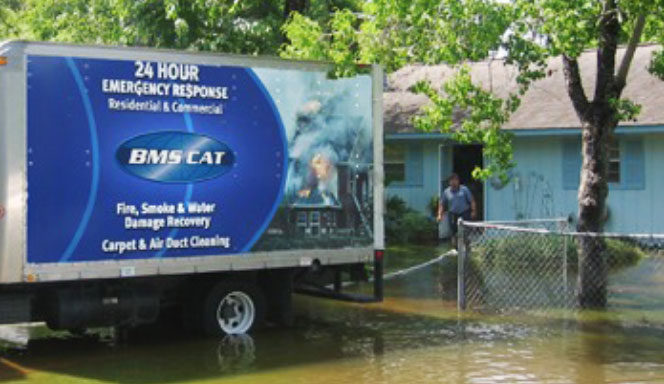 They will then work towards properly drying, deodorizing, salvaging, and rebuilding your property as quickly as possible. That's because we understand that if this is not done correctly, there is a chance that mold can grow.
We also offer direct insurance billing and superior turnkey services to help clean up the damage, restore the property, and rebuild what is necessary. BMS CAT can handle all types of flood restoration, water cleanup, and water damage repair across Tampa and St. Petersburg.
Water damage restoration is a highly skilled job. You can rest assured our teams follow industry best standards outlined by the IICRC when performing their water restoration services. With 24-hour emergency response services, 7 days a week, we can efficiently set up a custom plan for your job.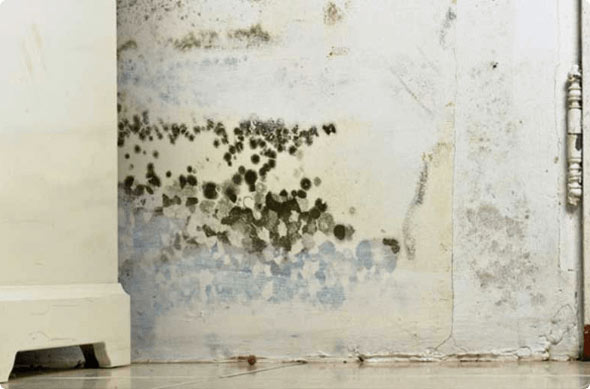 BMS CAT offers extensive mold remediation services for residential and commercial buildings in Tampa and St. Petersburg, Florida.
Our mold remediation process:
We begin with a thorough inspection of the property and a health and safety assessment.
Following this, we provide detailed technical reports.
In carrying out the remediation procedure, we remove and store valuables then conduct a thorough cleaning exercise of the infected areas.
Remediation also means addressing the growth source to identify and remove whatever is contributing to the problem.
Worried you may have mold present in your home or business? Call our Tampa and St. Petersburg team 24/7 for your mold removal needs, from inspection to screening, removing smells, and mold remediation.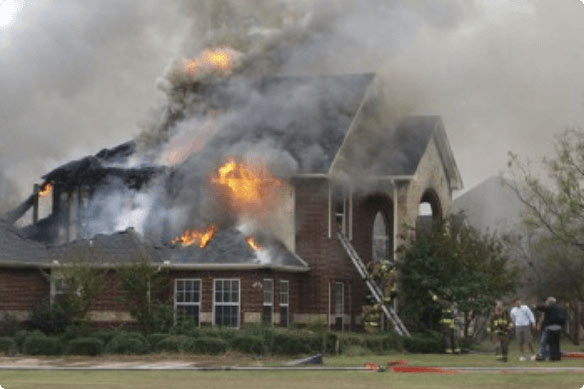 Our fire and smoke restoration process follows these steps:
Conduct a safety assessment to ensure that the area is safe, and evaluate the damage from smoke exposure.
Begin the containment process to isolate the damage to the affected areas, preventing secondary damage to other unaffected areas.
Evaluate which items can be salvaged through our restoration endeavors, and which are more cost-effective to replace entirely.
Decontaminate the structure of the property, along with all other interior surfaces.
Check for water damage resulting from the fire extinguishing efforts or burst pipes, and attend to any water damage or possible mold growth.
Restore and repair your property by managing multiple vendors and contractors, as well as working closely with your insurance company to ensure a smoother process.
It's always a good idea to choose a company with years of experience and a track record of delivering quality services. And that's BMS CAT. Getting the job done professionally will ensure the process of water damage restoration Tampa and St. Petersburg residents face is efficient and stress-free.
BMS CAT can handle all disaster recovery needs that Tampa and St. Petersburg residents are dealing with. We tackle restoration projects of any size, large or small. Our crew is available 24 hours, 7 days a week for emergency response.
We have established a reputation as a reliable and professional company that stops at nothing to help customers and restore their property to its pre-loss condition. There is no need to fumble through a disaster.
To find out more about safe and effective water damage restoration, Tampa and St. Petersburg residents should give our team a call at (813) 439-6410. We will help you through every step of the disaster recovery process.