The dreaded Stachybotrys Chartarum, also known as black mold, is a fungal growth that spreads throughout warm, humid and damp areas via toxic spores than can cause damage to items in a home or business, like furniture and equipment.
Black mold can eat away at porous surfaces; it can even infiltrate load-bearing beams and supports to cause structural damage to a building.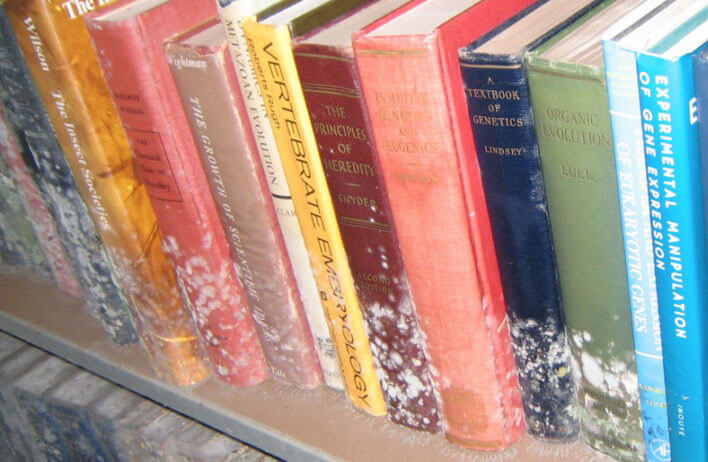 Even worse, without effective mold abatement, black mold can cause serious health problems, including the following:
Respiratory issues
Skin inflammation
Mucous membrane irritation
Internal organ damage
Immune system suppression
Fatigue, nausea, mental impairment
The longer you're exposed to toxic black mold, the more it can damage your health and the health of others, so if you suspect it's in your home, office or commercial building, it's essential that you contact a professional black mold remediation company immediately. Avoid attempting to remove black mold on your own, as you can easily release spores and toxins into the air, encouraging additional growth. Instead, call Blackmon Mooring & BMS CAT, mold removal professionals with decades of mold-removal expertise and experience, for help anytime, 24/7.
A form of fungi (like yeast or mushrooms), mold is a living microorganism that comes in a wide variety of shapes, sizes and colors.
Mold growth initiates in environments that provide the fungus with essential heat, moisture and food. The key to keeping it from growing in an indoor environment is to keep moisture at bay by locating the source and taking steps to keep it from coming back. Acting fast when you detect mold is essential for stopping additional mold growth.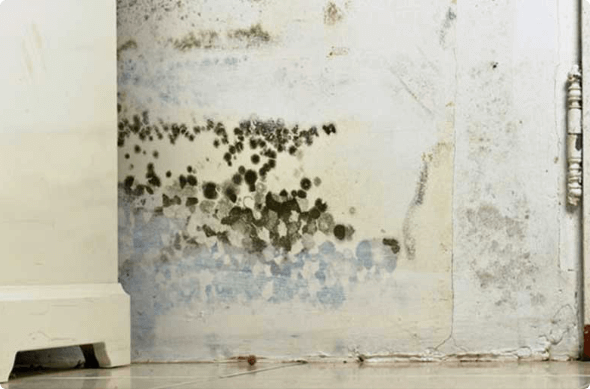 Commercial Mold Remediation
In commercial properties, particularly in older buildings, high humidity and poor ventilation can be a powerful combination that leads to mold growth.
Other causes can include complications resulting from summer or winter storm damage, plumbing issues, roof damage or leaks that can seem random. At Blackmon Mooring & BMS CAT, our job is to track down and stop mold growth at the source, safely cleaning up any existing mold and preventing additional propagation. Outfitted in personal protective equipment, our expert technicians clean air ducts and HVAC systems, repair leaks, dry out impacted areas and target and eliminate mold problems in common and hidden areas.
Residential Mold Remediation
In residential properties, mold is a common problem, especially in older homes with poor ventilation. Once the mold has been detected and confirmed, the area is contained, and the process of mold elimination begins.
However, removal is only one step of our six-step process for mold mitigation and remediation. Sources can include anything from failing HVAC systems, leaky or frozen pipes, holes in roofing or malfunctioning gutters. At Blackmon Mooring & BMS CAT, our goal is to target and eliminate the mold at its source, taking significant steps to correct the problem to prevent it from happening again, while restoring your home's comfort and safety.
Steps in Our Professional Mold Mitigation and Remediation Services Process
Whether your mold problem has occurred in commercial or residential areas, we're here to help you restore your property – with the help of seasoned professionals, proven solutions and first-rate equipment. As a highly trained, professional mold removal company with decades of experience with mold damage restoration, our tested, proven process includes the following:
Reliable and
Trusted Team Of
Restoration Experts
Why Choose Blackmon Mooring & BMS CAT
Looking for a reliable fire restoration company? We help you restore and rebuild your property
with care and professionalism. Here's how:
About Blackmon Mooring & BMS CAT
Since 1948, Blackmon Mooring & BMS CAT have helped our customers restore, rebuild and recover from fire and water damage, including mold removal, at any scale.
From a minor incident at home to a four-alarm commercial disaster, we have the experience, training, skills and equipment to handle all of your mold remediation services. A single point-of-contact for the entire process will keep your customized recovery plan running smoothly. Our extensive, nationwide footprint and 24HR availability mean we take our rapid response capability seriously. When your business or home is on the line and mold remediation professionals are required, we'll get the job done right and get you up and running, with precision, compassion and speed.