Blackmon Mooring began in 1948 as a furniture upholstery repair shop located in Fort Worth, Texas. As our experience and influence grew, we added BMS CAT in 1981, giving us a national reach. We have built our reputation as a dependable restoration company dedicated to delivering reliability, quality and superior customer service to those we serve. After all, the customer has always been the cornerstone of our business and will continue to be.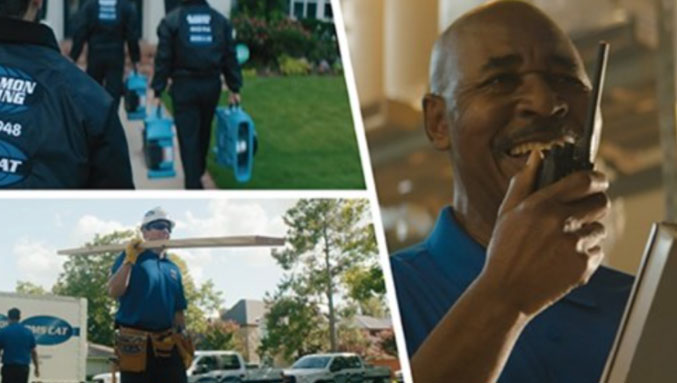 We've been helping families and businesses restore, rebuild and recover for more than 70 years. Blackmon Mooring & BMS CAT have helped thousands of customers recover from disasters - both big and small. By providing reliable recovery and reconstruction services to mitigate fire, water and storm damage, we help re-establish communities and businesses.
01.
24/7/365 Emergency Response
With just one call into our 24-hour emergency response contact center, we will dispatch crews to your site quickly so we can get to work and get your property back to its pre-loss condition.
Create a plan now for your business with our Priority Disaster Response Program
02.
Local, Regional, National and Global Capabilities
We are ready to restore, rebuild and recover your business wherever you are. With locations strategically located across the nation, we can respond to emergencies almost anywhere
03.
Whatever the problem, we're here to help solve it.
Having been in business since 1948, we have seen it all. By utilizing our decades of experience, we can prepare a custom scope of work based on your unique loss.
04.
Turn-key, we manage the entire process
We can manage the entire process from mitigation to restoration to reconstruction, which means one contact from beginning to end. In this way, we create a more seamless, efficient project experience.
05.
Reliable and Trusted Team of Restoration Experts
Our employees are what make us the best in the industry. In fact, the average tenure of our employees is more than 10 years! Our crews are equipped with the knowledge, tools and dedication to get the job done right.
06.
Insurance Company Coordination
We work with most major insurance companies. Through the relationships we have developed, we are happy to provide support and coordination to make the claims process as smooth as possible.
Reliable and
Trusted Team Of
Restoration Experts