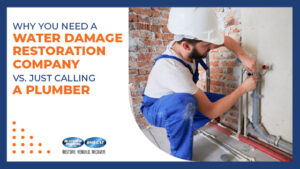 Do you know who to call in a water damage emergency? Who is more suited to help your situation, plumbers or restoration companies? Since water damage is a pervasive problem, the chances are you will need to know the answer to this question at some point in your life.
In fact, according to the Insurance Information Institute, about one in 50 homes file a water damage insurance claim every year. So if you're facing water damage, you are most certainly not alone.
The type of water damage you are facing will determine who the best person or water damage restoration company is to call. Some water damage will require a plumber to be called out to assess and repair your damage, while other issues will need water restoration companies.
Water damage takes many forms, from a simple leaky pipe to flooding. If you're interested in finding out the most common causes of household water damage, read a recent article we did on this topic.
This post looks at who to call when facing water damage and how Blackmon Mooring & BMS CAT can help you get through the water damage problems you are facing.
Who to call in an emergency?
No, the answer is not the Ghostbusters. For minor fix and repair problems, a plumber is suitable. For more severe issues where structure and standing water come into play, you should have a reputable restoration company's number at the ready.
What plumbers do
A plumber's job is to stop and fix the source of the water damage. They are sent to find the problem and stop it. However, plumbers don't necessarily know how to clean up or repair water damage.
They take care of broken kitchen faucets, leaking or cracked pipes, clogged toilets, broken gas lines, and broken sewer lines.
But if your situation is desperate and you're facing issues such as mold, basement and home flooding, and even frozen water pipes – these are much trickier problems to fix, and the damage more than likely lies further than the eye can see.
What water damage restoration professionals do
Water restoration companies can remove excess water caused by plumbing issues or natural disasters, remove damaged items, and restore building structures and contents.
These experts use professional drying equipment such as dehumidifiers and air movers to remove moisture from walls and floors to prevent further damage and mold growth.
Water damage professionals will also have experience in fire and smoke damage (which often runs hand-in-hand with water damage), storm and flood damage, mold remediation, construction and repair.
And most often, these services are offered at a 24-hour, 7 days a week, because disasters don't run on a schedule.
So, basically, if you have experienced leaks or flooding, a plumber will find the source of your problem and stop it, and water restoration companies will restore and repair the damage to your property.
How we Handle Water Damage
Water damage needs immediate action. We offer residential and commercial water damage restoration services after the effects of a toilet overflow or floodwaters – and everything in between. Our services include:
Find and Stop the Leak
First, we work to identify the source of your leak. It is vital to undertake the problematic leak before trying to extract the water. Once we have stopped the water problem, we can move on to the restoration phase.
Water Extraction
The solution to water damage and flood damage restoration is to get the water out as soon as possible. By doing this, we are able to prevent further damage. Our crews will extract the standing water to prevent secondary damage and mold growth.
Drying & Dehumidification
As a professional crew, we utilize specialized equipment like fans, desiccants, and dehumidifiers for the drying and dehumidification process. This way, we can regulate the moisture and dry out the affected areas.
Cleaning and Disinfecting
In the event of a flood or burst sewage pipes, the possibility of contaminants and debris entering your property is high. When that happens, sanitizing and disinfecting becomes a top priority. Once the water is removed, our crew can safely clean and disinfect the area.
Reconstruction and Repairs
Once water extraction, drying, and cleaning have been completed, we can finally start the process of repairing and reconstructing. Our dedicated construction teams can return your property to its pre-loss condition.
Insurance Company Coordination
We work with most major insurance companies. We are happy to provide support and coordination through the relationships we have developed to make the claims process as smooth as possible.
How we can help
Hiring a professional water damage restoration company to tackle water removal makes sense. Blackmon Mooring & BMS CAT offer water damage restoration services that have helped thousands of residential and commercial customers recover from water damage – both big and small.
Our water damage restoration company has reestablished businesses and restored communities from hurricanes to tornadoes to commercial water damage due to burst pipes and extreme weather.
At Blackmon Mooring & BMS CAT, we have strategically placed locations throughout the country, allowing us to mobilize crews and equipment promptly. Find out more at www.bmscat.com.