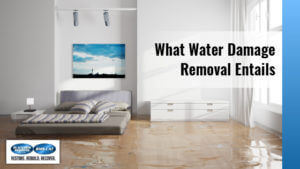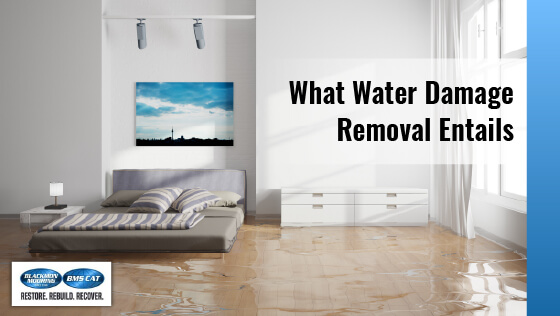 Nothing can cause a major headache like water damage. Dealing with water damage in your home or business can be very frustrating, and the water damage removal process itself can be a cumbersome operation.
All water removal jobs are different, as water damage can arise from a natural flood, a leaking tap, or a burst sewage pipe. Each of these problems will require different techniques and removal methods. Although it is possible to clean up water damage yourself, there are often secondary issues you may not be aware of. The one thing that will help the process is to follow the proper water damage removal steps.
Water Damage Removal Steps
Locate the water source and stop the leak.
Remove the water yourself, if possible. Remember that (depending on the water source), the water may be contaminated or have an electric current running through it. If you are unsure at all about these things, call the professionals in to help.
Dry the area. You will probably need help from the experts here, as you need to dry your property as quickly as possible to stop mold and mildew from growing.
Remove waterlogged materials and throw out all furnishings that have had prolonged water exposure.
Dehumidify the area to remove all moisture from the air; if this is not done, you will more than likely have mold start to grow.
As you can see, many of these steps require the help of a reputable water damage removal company with their professional equipment and trained crew.
Here's Why a Professional Water Damage Removal Company is Best
Inspection: During an inspection, the team will use moisture sensors and meters to see how far the damage goes and how wet the area is. The team will create a custom scope of work, and identify what can be restored versus what needs to be torn out and rebuilt.
Removal and repair: Once a plan of action has been determined and the water is removed, the crew will assess next steps to dry out the structure. If the cost to restore furniture and other belongings is cheaper than the cost to replace them, we will remove these items and take them to our warehouse.
Sanitation: If the water damage was caused by grey or black water, the technicians will perform a final cleaning that involves sanitizing to remove the likelihood of bacterial growth and clear the area of foul odors.
Mold growth: A good restoration company has the ability and expertise to remove any mold growth due to water damage.
Equipment: A reputable water damage removal company has the equipment that will speed up the restoration process and ensure everything is dry and back to normal.
Moisture sensors and meters: These help the technicians to know how wet an area is and how they will need to restore it.
Fans and dehumidifiers: Fans will blow air across surfaces and help the water evaporate. Dehumidifiers will draw the moisture out of the air and remove it so that it doesn't settle back down on the materials.
Air scrubber: This removes chemicals, particles, and/or gasses from the air by pushing it through filters.
Foggers: These will turn a chemical into fog to eliminate odors and kill bacteria. Thermal foggers use a solvent-based deodorizer that is heated and blown into a room. The solution sticks to the molecules of the door and absorbs them.
Generators: They will provide power for all the technicians' equipment if there is a loss of power.
How We Can Help
Hiring a professional water damage removal company to tackle water removal makes sense. You must work with a business with a reliable local reputation. You should make sure the organization you hire has extensive experience handling the water removal services you may need.
Over the years, Blackmon Mooring & BMS CAT have offered water damage restoration services that have helped thousands of residential and commercial customers recover from water damage – both big and small. From hurricanes to tornadoes to commercial water damage due to burst pipes and extreme weather – our company has reestablished businesses and restored communities.
At Blackmon Mooring & BMS CAT, we have locations strategically placed throughout the country, allowing us to mobilize crews and equipment promptly.
Call us today at 877-899-0676 for more information.