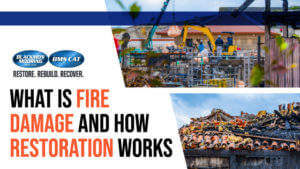 Fire damages property like no other disaster. It's often severe and comes with several problems that can impact normalcy and cost a lot of money.
In order to prevent further damage and save money, it's best to act as quickly as possible when it comes to the restoration of your property.
The best way to do this is to call in the experts. They are trained at how best to get smoke and soot out of your belongings, and they understand how to fix structural damage and restore your property back to its original state.
To understand fire damage restoration, let's look at the main types of damage fire can cause:
Burning

They will also look for any structural damage to your property, for instance, a burnt staircase or a hole in your wall or ceiling, and prioritizing these issues.

Smell and Dirt

Fire damage leaves lingering odors and can stain many surfaces. Smoke travels through a building and can stain your walls and carpets. It can also leave dust, dirt, and soot everywhere – even in the areas not specifically affected by the fire.

Fire damage restoration companies will prioritize cleaning and sanitizing your home or business to get rid of this.

Water Damage

Fire and water damage will often go hand in hand. This is because fire damage can lead to a burst pipe or tank, causing water to spill over your property, or fire damage can cause holes in your property, leading to leaks during bad weather. And, of course, firefighters will use water to put out the fire leaving your property soaked.

Now that we know where the issues lie, let's take a look at the process of how fire damage restoration contractors get to work:
Assessing the Damage
It's essential first to assess how far the fire has penetrated your structure and the belongings inside, how much of it is covered in soot and smoke, and if there are any signs of heat damage. This will all be recorded for you to pass on to your insurers.
It's also vital to remove all furniture that doesn't have any smoke or fire damage as soon as possible, so the lingering smoke particles don't settle on good furniture.
Securing the Foundation & Structure
In order to prevent further damage from occurring, our crews will assess your property's structural damage and determine what emergency repairs need to be performed – such as tarping up the roof or boarding up windows.
Cleaning
This is no easy job for a homeowner or business owner. In fact, it's almost impossible without professional help. Our crew will be able to help with water damage and get rid of any moisture.
We can pump out any standing water and sanitize the property from contaminated water.
Cleaning out the carpets and upholstery is next. You will need to get rid of all odors caused by the fire. Some furniture may need to be thrown away, and it may even cost less to replace some of your things rather than trying to clean and save them.
Restoration
Have you seen the bubbling and blistering of your wall and ceiling paint? That's what fire does! We'll get to scraping off the remaining paint and repainting all damaged areas.
Only some damaged wood surfaces will be able to be restored. Unfinished wood can be sanded and have a sealant applied, but it will have to be replaced if this doesn't work. There's often a better success rate of repair and restoration of finished wood.
Renovation & Reconstruction
Repairs and cleaning can take a long time, which is very frustrating, and then there is always the chance your property may not be restored to its original condition. In this case, our reconstruction teams can renovate or rebuild sections that had to be removed.
If you're facing fire restoration and just don't know how to get started, give the experts a call for a free consultation. We can help put your mind at ease.
Fire Damage Restoration Consultation
As you can see, fire damage restoration is more than just cleaning and repairing places that fire has touched.
You have to take into account how fire transforms the foundation and structure of the property, as well as the contents within.
Find a company that provides you with all the tools and options that you need to get your property back to its original state. <
At Blackmon Mooring & BMS CAT, we take care of the entire fire restoration process beyond what can be seen at a glance.
The key to recovering after any disaster is a quick response. For fire damage emergencies, call our 24-hour call center at 877-899-0676.