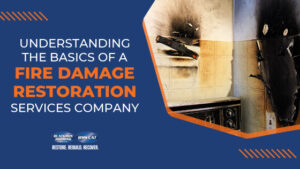 Did you know that each year nearly 4,000 people in the U.S. die from house fires? According to the National Fire Protection Association, it was reported that a fire department responded to a fire on average every 24 seconds in the United States in 2019. A home fire was reported every 93 seconds, a home fire death occurred every three hours and 10 minutes, and a home fire injury occurred every 43 minutes.
With those frightening statistics in mind, sadly, fires are a very likely occurrence in this country. If you ever face a fire at either your home or business, you will need first to call the fire department and then a property restoration company – such as Blackmon Mooring & BMS CAT. While we can't wave a magic wand and make it all go away, we can help restore your property to its former state.
As you can imagine, the fire restoration process can be a long and complicated one. To help simplify all the steps involved, we unpack our fire damage restoration process below.
What is Fire Restoration?
Let's start with the basics. The fire damage restoration service is the process of returning fire and smoke-damaged property to its pre-loss state. Depending on the size of the fire and the damage caused, the restoration process can take anywhere from a few weeks to several months to complete.
On top of debris removal, odor and soot removal, cleaning, and deodorization, fire restoration can also involve property board-up, demolition and complete reconstruction.
Plus, it's important to note that water damage often follows fire damage. After firefighters hose down the flames, a property is likely to experience water damage too.
Now that we've covered what fire restoration is, let's take a closer look at each step in the fire restoration process and its importance.
The Fire Damage Restoration Process
1. Damage Assessment
Only once the area is deemed safe to enter, our experts will assess the damage. Generally, this involves examining the structure and establishing how far the flames and smoke have penetrated it. Here, we will also estimate how extensive and lengthy the clean-up will be.
After the assessment, we will perform any emergency repairs to ensure safety and security while restoring and rebuilding. This includes boarding up, putting up a fence, or sealing off parts of the roof to protect the property from even more damage.
2. Removal of Contents
Next, we will go through the property to assess what contents can be salvaged. If the cost to restore the damaged belongings is less than the cost to replace them, our crew will carefully remove these items.
Taking them off the property, we will then clean, sanitize, and restore the items. Blackmon Mooring & BMS CAT can store them at our warehouse facilities until your property is ready for you to move back in. If your business has been damaged, we also provide commercial customer services to recover damaged records or documents.
3. Water Extraction and Drying Out
As mentioned above, water damage follows fire damage. The next step involves removing excess water and drying the affected areas. It's vital to get the water cleaned up as soon as possible because the longer it sits, the more damage it can cause to the structure and contents.
Plus, you can also increase the chances of mold forming. After our team extracts the standing water, we will perform drying and dehumidifying services to prevent secondary damage.
4. Controlled Demolition
When it comes to sections of the property that are irreparable, our team will undergo controlled demolition. Damaged drywall, flooring, ceilings, and other materials will be demolished and then removed.
These damaged areas can often get in the way of the restoration process, so once these structures have been completely removed, the crew can then start to rebuild and reconstruct.
5. Cleaning and Decontamination
Did you know that soot is acidic to building materials and the contents inside your property? Next, any harmful byproducts of the fire need to be professionally cleaned and safely removed.
If a pipe has burst during the fire, you may be dealing with sewage or greywater that can contain a whole host of bacteria and viruses. At Blackmon Mooring & BMS CAT, our team is well-versed in cleaning and decontaminating the affected areas after a fire.
6. Reconstruction and Repairs
At Blackmon Mooring & BMS CAT, we can provide complete reconstruction services and take care of all the necessary repairs and rebuild. This option allows for a single point of contact from the beginning to the end of your restoration process—no dealing with a handful of different contractors.
If necessary, we will bring in contractors for areas that require specific expertise, but we will continue to manage the entire process from start to finish.
Fire Damage Restoration Service You Can Trust
At Blackmon Mooring & BMS CAT, we understand how traumatic a fire can be. Rest assured, we have helped thousands of clients recover from fires and return their damaged property back to normalcy.
We are dedicated to providing you with reliability, quality workmanship, and superior customer service during this highly stressful time.
If your property faces a fire, call our 24-hour disaster response line, and we can dispatch a team to your home or office facility. To learn more about our fire restoration process or other property restoration services, visit our website today.