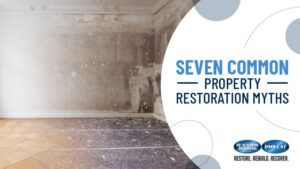 Like so many service industries, the world of restoration is often plagued by several myths and misconceptions. While we're not entirely sure where these myths, or old wives' tales, originated from, rest assured, they are far from the truth.
However, we will say that if a rushed DIY job (or poorly executed 'professional' job for that matter) is done, some of these myths may hold some truth to them. The best way to avoid any mishaps altogether? Hire a professional and reliable restoration company like Blackmon Mooring & BMS CAT to get the job done properly.
So, let's dive in and debunk the top 7 myths we often hear murmurings of. Here, we'll do our best to explain where these misconceptions might have come from and how they can be misinterpreted.
Myth #1: It's less expensive to replace something than to restore it
Depending on the situation, restoration can be more cost-effective than replacing items. For example, restoring an antique table that's been damaged by smoke is cheaper to restore than replace.
Don't forget; restoration professionals have the tools and knowledge to restore items properly. Most restoration companies will always aim to restore rather than replace to help save costs. However, when the item cannot be salvaged, replacement might be the only option.
Myth #2: Cleaning your carpets will get them dirty faster
This one might have been true back in the day when carpet cleaning materials and equipment were not what they are today. However, with modern carpet cleaning chemicals and technology, carpet cleaning will do exactly that, clean!
But inadequate carpet shampooing and mediocre products could result in making more of a mess than actually removing dirt and stains.
Myth #3: Once the carpets are dry, the drying process is complete
When it comes to water damage mitigation, carpets sometimes do take longer to dry than other structural materials in a home.
But, the drying process can only be considered complete when all structures of your home, such as cement floors, ceilings, and walls, are fully dry – and not just the carpets.
Because moisture can lead to mold, it's essential to ensure all materials and structures are 100% dry rather than just checking the carpets.
Professional restoration technicians can determine moisture levels using advanced tools like meters and sensors.
Myth #4: A home that has experienced fire damage will always smell like smoke
A smoke-damaged home will smell like smoke if it hasn't been restored professionally. Because smoke and soot residues are much more damaging and acidic than ordinary dirt and dust, prompt cleaning actions are crucial.
Smoke odor restoration must be specific, and contaminated areas must be cleaned, neutralized, and sealed properly. If this doesn't take place or the process is done at the hands of a DIYer, a house can have a lingering smell of smoke.
Myth #5: If the surface or area looks dry, there is no mold growing
A surface or an area that may feel dry does not mean it isn't damaged beneath. The building materials in your home are naturally porous, and water can easily seep through them during water damage.
This allows mold to spread quickly inside and behind these building materials, such as floorboards, drywall, and ceilings. Once this happens, the area that you think is dry and not damaged actually has moisture and or mold growing beneath.
Myth #6: DIY restoration is cheaper than hiring a professional restoration company
This situation can be true in some cases if, for instance, the damage was just a tiny leak. As long as there is no excess moisture, you can use household products to clean up the mess and prevent further damage. However, it's not advised to tackle restoration projects that are on a bigger scale.
You may spend all this money on "fixing" something, only to have to fix it again later or eventually call in the help of professionals. When it comes to mold remediation or smoke removal, not only can you harm yourself, you may worsen an already dangerous environment. So, hiring a restoration company is not only the wisest choice, but it can also help you save more money in the long run.
Myth# 7: Heat is the biggest problem in a property fire
Yes and no. Of course, flames and heat are cause for considerable concern when dealing with a fire at home.
But once the flames have been extinguished and the smoke has cleared, the biggest problem that property owners face (apart from structural damage caused by the fire) is the oily residue that smoke and soot leaves behind.
This residue can also compromise the building's structure and materials if not correctly cleaned quickly and professionally.
Property Restoration Services You Can Trust
After debunking the above myths, hopefully, the importance of hiring a professional when faced with property damage has hit home. But don't just go with the first company that pops up on Google.
Look for one with plenty of experience and a stellar reputation. Plus, you'll want a company whose technicians are trained too.
If you are looking for a reliable and trustworthy team to help you with any property damage restoration, Blackmon Mooring & BMS CAT offer all the property damage restoration services you need.
Coupling this with our decades of experience within the industry means that we are true experts in our field.
If you are unsure of any of these myths, please feel free to contact us. We will happily answer any questions you may have. If you are tempted to take the DIY route for restoration, always go with a professional. It's not worth the risk and further, costlier problems that may come down the line.
To find more about how Blackmon Mooring & BMS CAT can help you with a wide range of property restoration services, visit our website or contact us today.