How Do Wildfires Start?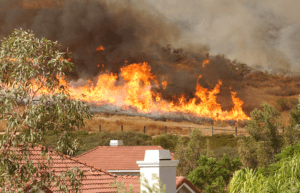 According to a 2017 study in the Proceedings of the National Academy of Sciences, 84 percent of wildfires in the United States are started by people.* One spark, combined with a dry forest and strong winds, can turn into a blazing inferno that can consume everything in its wake. This creates massive amounts of fire damage that can make the recovery process seem overwhelming.
How do these fires originate? Keep reading to learn more.
Before humans populated the earth, almost all wildfires were started by lightning strikes. In modern times, we are responsible for the majority of wildfires. Let's take a look at some of the most common causes.
Burning Debris – Many people still burn residential yard debris on their property, which can quickly turn into a dangerous situation. A small gust of wind could carry even a single ember that, in the right conditions, could turn into an unintentional fire that can quickly grow out of hand.
Engine Sparks – Issues with equipment or vehicles can be a threat to nature, especially when they are operated within a forest. All it takes is a spark. A small device, called a spark arrestor, can help prevent wildfires.
Cigarettes – Carelessly tossing a still-lit cigarette butt can have serious consequences. If you smoke, keep an ashtray in your car to store the cigarette butts. When smoking outside, cigarettes need to be thoroughly ground into the dirt until you are absolutely certain that they are out.
Unattended Campfires – When camping and building a fire, be sure to locate a safe spot for the fire away from any vegetation. Campfires should be surrounded by rocks, protected from gusts of wind and never left unattended. Be sure to keep a bucket of water nearby, as well as a shovel, to douse the flames and stir the dirt to bury the fire.
Natural Causes – The increase in greenhouse gases build up in the atmosphere, trapping heat that warms the planet and causes an increase in disastrous events such as hurricanes and wildfires.
Camp Fire
California has recently experienced one of the worst fire seasons in history. The recent Camp Fire has been recorded as the costliest wildfire in the United States. This disaster destroyed around 14,000 residences in its wake.
How can we help?
If you have been the victim of a fire, BMS CAT understands that it can be an overwhelming experience. We offer turnkey solutions for restoring both homes and businesses after a disaster strikes, so you don't have to worry about juggling multiple contractors.
Let us do the heavy lifting for you. Call [bpl_main_phone] for 24/7/365 emergency response services.
*According to Source: The Property Claim Services® (PCS®) unit of ISO®, a Verisk Analytics® company, U.S. Bureau of Economic Analysis.