Dealing with Fire and Smoke Damage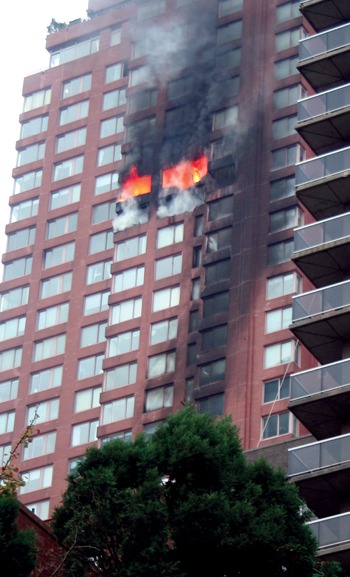 Even if it does not cause severe structural damage, the smoke damage caused by even a small fire can cause serious damage. The home or building often needs a thorough cleaning before it can continue functioning. BMS CAT uses cutting-edge equipment to clean and restore things like carpets, walls, ceilings, electronics and woodwork from damage caused by smoke. We can also decontaminate your HVAC system and associated ductwork to remove allergens and pollutants such as soot and mold to ensure optimal operation as soon as repairs are complete.
From vital business documents to furniture and fixtures to expensive electronic hardware, we also take care of cleaning and restoring all of the salvageable contents of your property. This service includes professional cleaning and deodorization using a range of wet and dry cleaning methods. Once contacted, we will come to inspect your premises to create a formal fire damage assessment before boarding up the property and placing a temporary cover over the roof where necessary, to prevent further damage due to exposure to the weather. We will then remove soot and smoke from all surfaces before cleaning and sanitizing the premises and restoring it to its former condition.
Reconstruction of the Premises
Our job is to have your home or business facility return to normal function as soon as possible, even in particularly severe scenarios in which significant reconstruction work may be required. BMS CAT is fully qualified to provide both interior and exterior reconstruction services. At the same time, we work closely with insurance companies to ensure the smoothest restoration process possible. We can take care of emergency repairs, controlled demolition, and our emergency response services are available 24/7/365.
Document and Media Recovery
The loss of important documents and other media following fire & smoke damage can devastate a business. BMS CAT's cutting-edge record recovery facility recovers data from a broad range of fire- or smoke-damaged media, including books, documents, tape, hard disks, optical disks and more.
Understanding the Fire & Smoke Damage Restoration Process
We know that every situation is unique, but you can rely on our sense of urgency when it comes to getting you back on track. To mitigate fire and smoke damage as much as possible and minimize the interruption to your life or business, we may take the following steps:
Secure the property to prevent further damage.
Ventilate the premises to draw out dust and soot from the air, thereby making it safe to work in and begin the restoration process.
Removal of any contents, separating salvageable and unsalvageable items in the process. Salvageable materials are typically moved to a secure location for restoration and storage until the reconstruction work on your premises is ongoing.
Thoroughly clean the premises, including ceilings, walls, floors and any permanent fixtures to prevent further damage from acid soot.
Clean salvageable carpets and upholstery to completely neutralize any acid contained in soot to minimize the risk of permanent damage.
Deodorize the entire premises using specialized equipment while also cleaning and sanitizing any contents that may be salvaged. This process may also involve a thorough decontamination of the property's ductwork and HVAC system.
BMS CAT provides the full range of services needed to get your home or business back on track after a fire. To learn more, contact us at [bpl_main_phone] – our emergency response center is available around the clock every day of the year.