Summary
Fires are unpredictable and devastating. The safety of a facility's occupants is the first priority, but the damage can cost an organization significantly. According to the U.S. Fire Administration, over $11 billion is lost each year to fires. Can you recover? Is anything salvageable?
Why Does It Matter?
Fire can damage and destroy a building and its contents, but smoke and soot also pose a considerable risk. Soot is a particulate that can spread far from the source of origin and creates a residue and an odor. The materials burned during the fire has a direct effect on the ease or difficulty of a restoration effort. Wood and paper sort are not as greasy or oily as soot produced from the burning of plastic furniture, carpet or insulation. When plastics burn, they produce hydrochloric, hydrofluoric, hydrobromic and other reactive agents in varying amounts. Even a light acid exposure may cause corrosion. The higher the humidity, the more active the corrosive elements will be.
What Can Be Done?
Restoration to fire damaged facilities and contents, including paper documents, is possible. By removing burned materials and minimizing the humidity through dehumidification and careful decontamination, a facility can return to operation and minimize losses following a fire. Soot must either be removed or sealed in place to eliminate the odor. Most smoke odors will not simply "air out." Further measures will need to be taken to remove or seal the soot particulate. Vapor barriers can be constructed out of heavy plastic sheeting to help seal off the burned area or to protect sensitive areas.
Considerations

Contents affected by fire, soot, and smoke may be so heavily damaged that they require replacement. Test cleaning can confirm if an item is restorable, however, it must be cost effective to restore, as opposed to replacing. A common question that is asked is: "What's the value of the piece?" Restoration of contents can be performed on-site or off-site.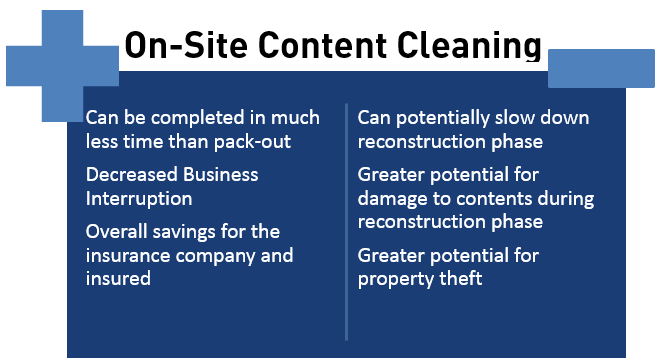 What To Expect from the Pros
When you suffer from a fire, hiring an experienced professional restoration company is recommended. Blackmon Mooring & BMS CAT will:
Scope the loss

Board-up/tarp in order to secure the property as necessary
Identify the need for dehumidification and/or corrosion control
Determine which items should be restored and which items should be replaced

Barcode items removed

Video as needed
Printed inventory

Pack-out vs. on-location cleaning
Clean structure
Clean contents
Remove odors
Mitigate additional damages

Dehumidification
Corrosion control

Reconstruction
The Restoration
Proper cleaning techniques and chemicals used in restoration can vary based on the type of item being restored.

The HVAC system must be cleaned and deodorized because soot particles have been trapped by the filtration system. All registers and ductwork must be thoroughly examined and, if contamination exists, cleaned. A neutralizing agent is applied into the ductwork to eliminate odors and, if necessary, a Duct Sealer may be applied to seal in any residual odors.
Soot contamination on the structure can normally be restored by using the proper techniques in combination with the following:
Chem-Sponges
Rags and a heavy-duty degreasing chemical mixed with a deodorizing agent (for glossy surfaces)
Professional carpet/drapery cleaning system
Professional HVAC/Duct cleaning system
Thermo-Fog and/or Ozone or Hydroxyl for deodorization
What Can You Do?
Preparation and safety prior to any incidents are the best way to minimize the effects of a fire. Check automatic fire-extinguishing systems regularly. There is sometimes a reluctance to install automatic sprinklers for fear that the water will damage the contents. Consider, however, that water damaged items can usually be restored and ashes cannot.
It is important to have a plan in place for a disaster. It is highly recommended that you pre-contract with a restoration company before a loss occurs. This gets any administrative "red tape" out of the way, expedites response times and allows you to carefully pre-qualify the service for your exact needs. We offer a Response Service Agreement at no cost.