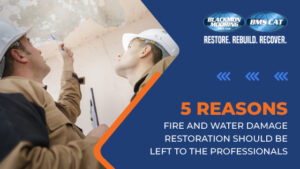 Dealing with a house or business fire can be a very emotional and overwhelming time for anyone. If your property was recently damaged in a fire, you're presumably wondering whether to tackle the restoration process yourself. Unfortunately, even if you enjoy DIY projects, it's not a good or recommended idea.
Fire, smoke, and water damage restoration are jobs for professionals. Trying to tackle these issues yourself could be both challenging and problematic.
With a fire, flames cause the most visible damage, but smoke, soot, and water can also cause devastating damage. Even the odors from smoke and soot can cause damage in a short amount of time.
It's important to act quickly and expertly to prevent further damage to your home or commercial facility. There are few things to understand before even considering whether you will handle the restoration on your own or not:
Safety: It's not safe to enter a structure after a fire, even if everything seems fine from the outside. Call the experts to assess safety before entering the property.
Soot: Inhaling soot, which is the black dust made from burned coal, wood, or oil-based substances, can cause severe lung problems. Allow the professionals to evaluate the soot situation inside your property first.
Water: After the firefighters are done, you may also have water damage to deal with. Your home or building will need to be dried entirely, or mold and mildew can take growth. Mold colonies can start growing just 48 hours after water damage.
Knowing these critical details about fire damage will help you understand the five reasons water damage removal and fire restoration services should be left to the professionals.
Hidden Health Hazards

The most obvious hazard when dealing with fire are the flames, and people tend to think that when the flames are out, their problems are over.

This is just not true. The smoke and soot left behind can be incredibly dangerous to your health, so you need to ensure your exposure to fire-damaged objects is minimal.

Entering your property soon after a fire can expose you, your family, and your employees to these issues.

The professionals can undertake the cleanup process with specialized protective gear and equipment that makes the cleanup process safe.

Special Equipment

To clean up after a fire, you'll need more than some cleaning products and a mask. Soot can not just be wiped or scrubbed away.

After a fire, all surfaces will need to be deep cleaned and sanitized. A deep clean will also help remove any residual odors and make your property safe again.

A professional fire and water restoration services crew will use proper tools, equipment, and cleaning techniques to tackle the restoration cleanup process.

Even clothing damaged by smoke can't just be cleaned in a washing machine; special dry-cleaning methods are needed to salvage these items.

Salvageable Goods

A professional crew will easily be able to determine whether some of your belongings can be salvaged, cleaned, and repaired, or if it will be more cost-effective to replace these with new ones.

Also, the restoration company will be able to properly dispose of all contaminated items that pose a health hazard.

Reconstruction Efforts

Often repairs after a fire can be vast, and your property may even face structural damage. A reputable fire and water restoration services company knows how to handle reconstruction and repairs.

Damaged ceilings pose the risk of collapsing and are often the first to be assessed. The possible repair of any damaged wood can also be taken care of, from wooden floors to furniture. More often than not, these porous materials will need to be disposed of and replaced.

Drywall can often be salvaged, dried out, and repaired; an experienced crew will know whether this is possible or not. The experts will also check whether your electrical components have been damaged and whether they need replacement or not.

Mold Remediation


In the case of water damage, there is also a good chance mold growth will start. Not only is mold and mildew hazardous to our health, but it can cause further property damage too.

Knowing that mold growth goes hand-in-hand with fire damage, restoration experts offer mold remediation and removal efforts too.

The professionals know where to look for mold growth after a fire, and have the equipment to handle the removal process.
Since fire is dangerous and destructive and comes with many unseen issues, it can leave homeowners and business owners feeling overwhelmed and unprepared on how to move forward. This is why it's best to leave it to the professionals.
Don't try and tackle the cleanup and renovations on your own. Not only are you more than likely unqualified to do the job, but you're also just adding unnecessary stress to the situation. Contact the professionals to do the work today.
Professional Fire Restoration Services You Can Trust
As you can see, fire damage restoration services are more than just cleaning and repairing places that fire has touched. You have to take into account how fire transforms the foundation of the property and the contents within.
Find a company that provides you with all the tools and options that you need to get your property back to its original state. At BMS CAT, we can take care of the entire restoration process beyond what can be seen at a glance.
Contact us today for a free consultation and learn why homeowners and big businesses trust us during natural disasters and everyday emergencies.