Why commercial fire damage restoration is your saving grace in the face of a fire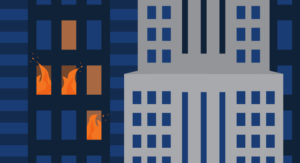 Although fire safety and education has become more widely accessible and practiced, fires remain frighteningly common. According to the National Fire Protection Association (NFPA), a blaze needing fire department services occurs once every 24 seconds. While many of these fires affect homeowners, business owners are equally at risk, requiring commercial fire damage restoration services to recover.
Between 2012 and 2016, an annual average of nearly 4,900 structure fires affected educational facilities, based on figures from the NFPA. Approximately 2,700 impacted agriculture, mining and industrial facilities and over 6,500 fires per year were reported to area fire departments by health care and medical offices.
Fortunately, most of these incidents were not deadly, but they resulted in hundreds of millions of dollars in property losses for businesses. The cost is part of the reason why many companies who experience disasters are unable to fully recover.
Commercial fire damage restoration services help business owners ensure that disasters don't lead to financial ruin.
What is commercial fire damage restoration?
As its title implies, commercial fire damage restoration is a service that enables a company to get back up and running after experiencing the effects of a fire, regardless of how it started. Just as fires can come in many forms and vary in severity, the damage restoration services needed for a business to recover vary depending on their particular situation. For example, the aftermath of a fire may only be cosmetic, requiring the walls to be treated or furniture replaced. But even minor issues can lead to lasting effects that can be seen and smelled, as smoke seeps into the walls, carpeting and woodwork. Cutting-edge restoration processes and treatments can help eliminate these bad odors quickly so the air quality returns to normal for customers, as well as staff.
When fire damage is structural, however, the commercial fire damage restoration process is much more labor intensive. Depending on the severity, a business may be closed for weeks, months, or even years by going it alone, even if they have the funds available from their property insurer. Hiring a commercial fire damage restoration expert makes the recovery process much more seamless by working in consultation with the insurance agency to ensure nothing gets missed and the reconstruction work is tailored to fit and fix the problems caused by the fire.
Choosing the right partner
No matter what type of business you're in or the degree to which fire has affected your facility, it's important to look for a trustworthy restoration partner like Blackmon Mooring & BMS CAT. Our comprehensive suite of restoration services, including – but not limited to – damage analysis, cleaning and sanitizing, HVAC decontamination, document and media recovery and commercial reconstruction provide you with any and all services you should need or require.
Since our founding back in 1948, Blackmon Mooring & BMS CAT have been independently owned and operated, which provides us the capabilities and resources necessary to handle all types of disasters – no matter how big or small. Our approach affords you with a personal experience, giving you the peace of mind that you are being taken care of.
In short, our restoration specialists provide the disaster resilience you need when you need it the most. Contact us at [bpl_main_phone] to learn more.