What to Expect From the Atlantic Hurricane Season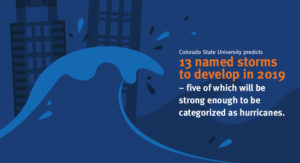 The summer will be heating up soon enough and so too will the Atlantic hurricane season.
Over a six-month period – stretching from June 1 to Nov. 30 – business owners up and down the eastern seaboard hold their collective breath, hoping that a tropical storm won't arrive at their doorstep.
According to the National Oceanic and Atmospheric Administration, 2018 was one of the more active periods in recent years, with 15 named storms developing, eight of which were hurricanes and two of them major.
What does the future hold this time around? No one knows for sure, but researchers are confident that it could be another devastating season for hurricane development.
Now is the time to prepare your business or organization for any kind of severe weather that may be in store for 2019.
13 named storms projected
Bloomberg has reported, based on the latest predictions and modeling from analysts at Colorado State University, expect 13 named storms to take shape between the start of June and end of November. Of these storms, five are anticipated to pack winds strong enough to be deemed hurricanes. Sustained winds of 74 miles per hour or more meet the textbook definition of a hurricane, according to the National Hurricane Center's Saffir-Simpson Wind Scale. Two are expected to be major, meaning at least 111 mph winds or Category 3.
Should CSU's predictions prove correct, 13 means one more named storm than what the typical season brings. However, the season could also bring one fewer than the average six hurricanes and three Category 3s or stronger. Phil Klotzbach, the study's lead author, told Bloomberg that it really doesn't matter how many actually develop; a single named storm can be devastating.
"As we always say, it only takes one storm to make it an active season," Klotzbach warned. "People have to prepare the same as always."
Recent years more active after prolonged lull
Hurricane seasons wax and wane, with one being especially intense while others quite quiet. After 2005, not a single major hurricane made landfall in the U.S. for more than a decade (Hurricane Sandy, while destructive, did not reach Category 3 strength). Coastal residents and business owners received a rude awakening in 2017, when three major hurricanes roared ashore in short succession, none more powerful than Hurricane Harvey. A Category 4 storm, Harvey led to massive amounts of insured losses and crippled Houston for weeks on end, preventing business owners from so much as opening their doors. More than five feet of rain doused the downtown area of Texas' largest city.
A few weeks later, Hurricanes Irma and Maria carved their own respective paths of destruction, primarily affecting home and business owners in Florida and the Caribbean, respectively.
Although nothing is for certain, hurricane forecasts by CSU tend to be on point. As noted by Freightwaves, Klotzbach and his colleagues anticipated seven hurricanes in 2018, but the actual number that formed turned out to be eight. They underestimated by one in 2016 as well, a year when seven developed.
Preparedness is essential to your business' day-to-day functions. At Blackmon Mooring & BMS CAT, we can help you in this regard through our Priority Disaster Response Program. PDRP puts the proper pieces in place so you can mitigate damage and expedite recovery.