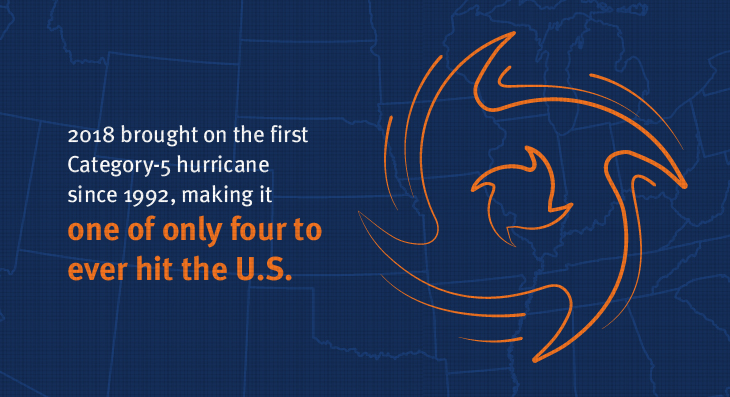 What last year's 'mild' hurricane season could mean for 2019 forecasts
At first, the 2018 Atlantic hurricane season wasn't exactly one for the record books. Sure, it was an above-average period for tropical storm activity – producing 15 named storms, three more than what is typical – but it wasn't nearly as destructive a stretch as 2017, when several Category-4 hurricanes not only developed, but made landfall.
With the 2019 season upon us, climatologists have re-evaluated last year's hurricane season and determined that at least one of the storms produced wind gusts that were much more powerful than initially measured.
In post-storm analysis performed by forecasters at the National Oceanic and Atmospheric Association's (NOAA) National Hurricane Center, Hurricane Michael – which battered the Gulf Coast, particularly parts of Florida in October 2018 – wasn't a Category-4 storm as was originally evaluated, but in fact a Category-5. Indeed, when it reached land between Tyndall Air Force Base and Mexico Beach, Michael produced sustained wind gusts of 160 miles per hour (mph) – 5 mph faster than the initial calculation – making it the strongest hurricane to strike the Sunshine State in 18 years, tracing back to Hurricane Andrew in 1992.
The fact that Michael was upgraded is noteworthy because on record, only three Category-5 hurricanes had ever hit the U.S. previously. Michael makes it four, the others occurring in 1935 – which was before storms were given names – in addition to 1969's Hurricane Camille and 1992's Hurricane Andrew.
"Michael is also the strongest hurricane landfall on record in the Florida Panhandle and only the second known Category-5 landfall on the northern Gulf coast," the NOAA announced.
Furthermore, as noted by Weather Underground meteorologist Bob Henson, the upgrade also means two Category-5 systems reached land last year, the other Super Typhoon Yutu, which hit the Northern Mariana Islands in October. Sustained winds for that one were 180 mph.
Hurricane seasons of late packing a punch
Throughout history, hurricane seasons have varied in their intensity and activity level. For example, since the active 2005 period – the same year Hurricane Katrina struck Louisiana and parts of Mississippi – just one noteworthy storm made landfall, that being Hurricane Sandy. Even here, sustained winds from the weather system never topped 115 mph, making it a Category-3 on the National Hurricane Center's Saffir-Simpson Wind Scale. And when they did, it wasn't for very long.
However, the elements seem to be combining with much more consistency and forcefulness since 2017, when three Category-4 hurricanes struck land – Harvey, Irma and Maria, respectively – and six major named storms developed last year, several more than was predicted.
The bottom line
So, what does this all mean for you? More than anything else, regardless of what the forecasters anticipate, it's important to always go into the hurricane season knowing how you'll respond when strong winds and heavy rains ramp up. Visit Ready.gov for lots of helpful online tools and resources you can sort through, the tips broken down by disaster type (e.g. flooding, tornadoes, wildfires, etc.).
Even when you're prepared, property can still be badly damaged. That's where Blackmon Mooring & BMS CAT can help you restore, rebuild and recover. Trust the experts at Blackmon Mooring & BMS CAT to help get your business back up and operating quickly, once the disaster passes. Contact us today to learn more about our services.