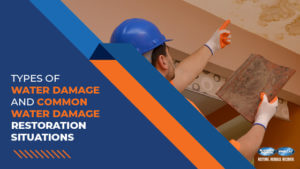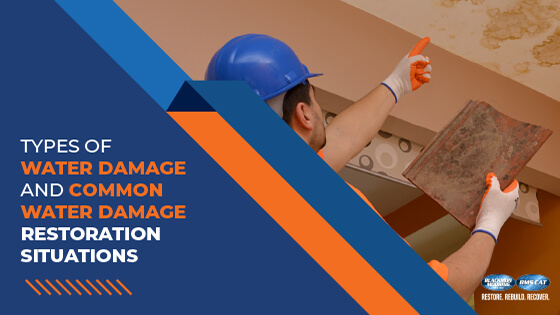 Water damage often brings with it unforeseen situations and threats, even for the most prepared home or business owner. Without even knowing it, water can cause serious damage to your property within hours if left unaddressed.
This is one of the many reasons why severe water damage requires professional damage cleanup and restoration with industrial-grade tools and machinery.
The first step towards water damage restoration is to identify the water damage category. Once this is done, a professional water damage team will customize their recovery plan and the restoration process based on each unique situation.
In order to understand the process of water damage restoration, let's take a look at the three types of water damage, their respective considerations, and a common water damage restoration situation example.
Types of Water Damage
Category 1
Category 1 water damage involves 'clean water' and involves water damage from broken pipes, an overflowing sink, or rainwater. This means health risks are low, granted the situation is dealt with in less than 48 hours. If it is not treated within this time, the water-damaged materials can become exposed to various contaminants moving the water damage from a category 1 situation to a category 2.
Category 2
This water damage category comprises greywater from equipment discharges, chemical wastes like detergent, laundry and soap. This water damage category can pose mild to severe contamination risks for those involved because greywater can foster microbial growth.
Of course, with all water damage, the severity of the situation will intensify with time. Ensure that you, your family, or your employees, are wary in this instance as both direct and indirect exposure to greywater damage can be harmful to your personal health and property.
Category 3
The most dangerous category, category 3 water damage, involves black water from sewers or water containing grease, oil, urine, etc. This type of water damage easily acquires bacteria, viruses, and other toxic allergens, making it hazardous.
Research says that the vulnerability of getting an infection or illness after direct or indirect exposure to black water is more than 90%. It is necessary to be extremely careful when dealing with black water and prudent to get the professionals involved.
Considerations
Health and safety: The top priority when facing water damage is, of course, to regard the health and safety of the property's occupants.

If the situation seems out of control at any stage, make sure all family or employees leave the property as soon as possible.
Containment: Secondly, make an effort to find the source of the water damage and contain it. Dealing with a broken or leaking pipe? Use some waterproof tape to prevent further damage from taking place while you wait for the experts to arrive.

If the situation is more pressing than you can handle, call a reputable restoration company immediately. They will be able to evaluate the severity of the damage and act fast.
Make a move: If safe and accessible, move all furniture and other furnishings that are likely to be affected by the water to a dry place for storage.

If any of these got wet or were contaminated by the water, they are likely to start developing mold growth if not dried correctly.
Water Damage Restoration Situations
To help you understand our professional crew's process towards water damage restoration and what their attack plan involves in common water damage situations, let's look at an example of one such situation.
Here, we'll showcase what steps the team would take to repair the damage caused.
Example: A burst hot water tank in a commercial complex
Older hot water tanks age and can often burst. For this situation, we will assume that the damage occurred in a building occupied by a woodworking business. The area is steel-framed and has a concrete floor that is not very porous.
The hot water tank has ejected 200 gallons of fresh water in a mechanical room. The room has steel studs and wallboards made of gypsum.
The majority of the water emptied into a drain in the floor, but approximately 70 gallons escaped the room and got into the workshop itself, which has sawdust all over the floor.
Here are the steps that were followed by workers in this situation:
The workers examined the area for unrelated safety hazards, such as electrical cords and appliances. The power supply to anything that might be in danger was cut off.
They tracked down the water shutoff valve and stopped the flow of water. A plumber was called in to remove the defective hot water tank and replace it.
They inspected the drain to ensure that it was not a blockage that caused the water to get into the shop.
Any material that was wet, such as the sawdust, was removed for disposal or dried out away from the shop.
Any water left on the floor was mopped up or sponged.
All doors and windows were opened to allow for adequate ventilation.

The shop was approximately 1000 square feet, so two air movers were used to help dry the floor. These air movers are ½ horsepower each, which is adequate to cover the whole shop.

A small dehumidifier that removes 14 pints or moisture every 24 hours helps keep the moisture levels down.
The only protective equipment used are gloves and rubber boots.
Dealing with water damage can be a tricky task. The key is to take action within the first 48 hours and keep the microbial growth under constant check. This is where water restoration specialists can play a crucial role.
How We Can Help
Hiring a professional water removal and restoration company to tackle water removal makes sense.
Blackmon Mooring & BMS CAT offer water damage restoration services that have helped thousands of residential and commercial customers recover from water damage – both big and small.
Our company has reestablished businesses and restored communities from hurricanes to tornadoes to commercial water damage due to burst pipes and extreme weather.
At Blackmon Mooring & BMS CAT, we have locations strategically placed throughout the country, allowing us to promptly mobilize crews and equipment. Find out more at www.bmscat.com.