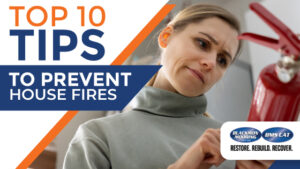 Aside from providing you with shelter, your house serves as a place for making memories and building a life. In return, you have a responsibility to take care of it to prevent damage-causing threats like fire.
Fire is one of the disasters that can devastate homes, causing material losses, injuring and killing thousands of people, and leaving extensive fire and smoke damage in its wake.
But while a house fire poses serious danger, especially in colder months, you can also take measures to reduce its risks.
Here are some tips to prevent house fires and protect your family and home:
1. Test Your Smoke Alarms Regularly
Smoke detectors are your first line of defense against fire because of their early warning capability. These days, they're hardwired into homes to monitor smoke and carbon monoxide, and send alerts to your smart devices.
If you're using a battery-operated one, it pays to conduct a routine check every six months to see if it's still working. All it takes is pressing a button on your alarm. A weak beep means it's time to change its batteries ASAP. On the other hand, a WiFi-connected alarm will prompt you to swap batteries by sending an alert to your phone.
Whatever you use, it's important to know your smoke detectors are working well. This way, you can be assured that you'll be alerted when a fire breaks out, affording you a wide enough margin to manage the emergency.
2. Ensure All Your Heating Sources Are Working Properly
The National Fire Protection Association (NFPA) says heating equipment is the top cause of fire in American homes. The thing is, faulty heating sources like space heaters, central heating systems, and fireplaces could trigger a fire when ignored or left unchecked. So an annual professional checkup is necessary to keep them working safely and optimally.
At the same time, you can practice preventive maintenance like cleaning the air filters at regular intervals. If you are using a space heater, position it away from flammable objects. These little details are critical if you consider how debris and dust can be fire hazards when they get too close to a heat source.
3. Clean Your Stove and Oven
Your cooking may not be to blame if your stove suddenly combusts. Instead, the food particles that have accumulated at the bottom of the burner could likely be the culprit. The same thing can happen if you forget to clean the buildup in your oven.
Now that you know what could happen to forgotten food sitting on these kitchen appliances, make sure to clean them every after use. In particular, cooktop or gas stoves should be wiped after cooking. Meanwhile, modern ovens have a self-cleaning function, which you can take advantage of every few months.
Of course, there are other things you should be wary about, such as curtains hanging a bit too close to the stove and small items like a dish towel or cookbook lying on a burner that is still hot.
4. Pay Attention When Cooking
More than half of kitchen fires are caused by cooking with disruptions. Remember that all it takes is a few seconds before things in the kitchen start to catch fire. Even if it's just a pot of boiling noodles, never leave your cooking unattended. Keep distractions away and focus on what you're preparing.
Avoiding minor to major interruptions while cooking is a top priority to ensure the safety of your home. So here are a couple of things you should remember:
If you really need to leave the kitchen for some reason, the safest way is to turn off the stove and stop cooking.
You can also ask another person to watch over the food until you get back.
5. Always Check Your Dryer's Airflow
Dryer fires occur in 2,900 homes in the United States each year. This is because clogged vents or a filter buildup can cause a fire. However, this situation is highly preventable if you follow best practices.
First, you have to get your dryer inspected annually or every few months – there is no substitute for this. Next, always check if your lint trap is clean before putting in a new load of laundry. Incorporate the latter into your to-do list if that's what it takes.
Lint or small clothing items like socks can also get stuck at the back of the machine. So make sure to look for those and remove them prior to operating your dryer.
6. Be Careful With Cords
There are several angles to look at when it comes to cords. First off, make sure to check if there are too many appliances plugged into an outlet, which can cause it to overload. If this is the case, you should immediately lessen the load and keep things manageable for each of your outlets.
Another instance to avoid is ignoring frayed or chewed cords – which is expected if you have pets. One spark from the exposed wires is all it takes for a fire to start. It's a necessity to replace damaged wires as soon as you notice them, to avoid the risk of fire.
Lastly, check your cord placement. Cords tend to get hot so you want to avoid running them under a rug or between your wall and furniture.
7. Store Flammable Products Safely
Common hair products, cosmetics, and household cleaners can all be classified as flammable products. They all tend to combust when placed too close to a large heat source. These are your hairspray, shaving cream, and the like.
To err on the side of caution and avoid fire and smoke damage, you should always check the label of items you purchase, to know which products are prone to catch fire when exposed to heat sources like space heaters. Then, ensure you keep your flammable products in a cool, dry place.
8. Practice Caution With Candles
Scented candles are commonly used in households, especially around the holidays. But if you don't use them carefully, they could cause fire and smoke damage.
Handling them with total awareness of their potential fire risk is key. Here are some rules to remember:
Always put the candles out if you're leaving a room.
Blow them out before you fall asleep.
Place them in a spot that is far away from objects that can easily catch fire like curtains and blankets.
Never position them on an uneven surface such as a  carpet to prevent them from tipping over.
Keep lit candles away from your pet.
9. Keep Your Fireplace Safe
Fireplaces are cozy add ons and many people enjoy the benefits of these in their homes. But your fireplace can also be a source of fire if not maintained correctly. For instance, you would not want stray sparks to escape the fireplace so you need to build a door between the flames and your flooring. When you have a fire going, it is also advised to stay in the room. Dispose of ashes properly, giving them more than enough time to cool down. To be sure, put them in a metal container specifically designed for the disposal of ashes.
10. Invest in a Fire Extinguisher
Fire extinguishers can save lives, making them a worthwhile investment. Having them at home can bolster your feelings of safety. At the same time, they are also genuinely useful in case a fire breaks out.
Make sure to position one fire extinguisher each in an accessible spot on every floor. Put them in the high-risk areas of the house, such as the kitchen and laundry room. Also, check if your units are not yet expired. They usually last an average of 5 to 15 years.
A quick inspection of the pressure gauge is also needed. Just check if the needle falls in the fire extinguisher's green area, and you're good to go.
Proactively Prevent House Fires
Losing everything you own to a house fire is a devastating experience. You put in a lot of time, money, and effort to make your home comfortable. And you create memories that begin to inhabit its every corner. It is hard to bring back the intangibles once they're gone.
This is why you should protect your house from a fire at all costs. By following the practical tips above, you will be able to avoid fires and conduct preventive maintenance the proper way.
But if you're suffering damage from a fire, you'll need the expertise and knowledge of fire and smoke restoration professionals. We understand the devastation fires can bring, this is why we work quickly and efficiently to address your fire and smoke restoration needs. Call us to find out how we can help you with the process of restoring your home after a fire.