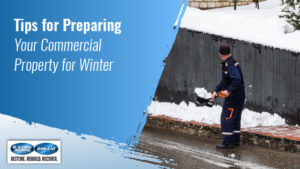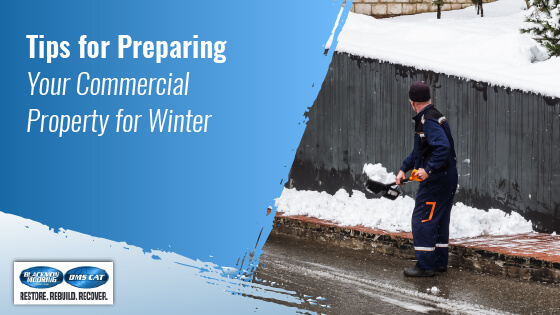 When things are going well, it's often difficult to think and plan for the worst. When it comes to commercial property maintenance, it's important to think ahead. Winter can have a big impact on commercial buildings, which is why it is essential to prepare for each winter season to ensure disaster doesn't strike, leaving you with problems.
Maintenance to Consider During Fall
HVAC
You know that the heat will be cranked up during winter, so take some time to make sure your heating, ventilation, and air conditioning system is running efficiently.
Things to look out for: broken parts, cracked ductwork, clogged drain lines, blockages in blowers and hoses, and make sure to replace filters and empty condensation drain traps too.
Lighting
Winter brings with it decreased daylight, so make sure proper exterior lighting is installed and all lights are in working order.
Roof
Inspection time! This is the time to check your roof for loose shingles or damage to existing flashing.
This will reduce the formation of ice dams, which prevents water from draining off your roof. Clear the roof of high-piling snow, and don't forget to clean out and check that gutters are properly secured.
Windows
Checking that windows are properly sealed will not only prevent excess moisture and mold risk, but it will help to reduce your energy bills too. Replace or repair windows where necessary to avoid any damage to your building.
Plumbing
You know what we are going to say. The colder temperatures put water pipes at risk of freezing. When they freeze, the water inside expands, causing pressure inside the pipes, which can then lead to them cracking or bursting.
And this, of course, leads to water damage and the possibility of having to close down your business for a period of time.
To avoid this potential disaster, ensure you check the insulation on pipes and seal any cracks and openings around pipes. Setting the thermostat to 55 degrees Fahrenheit will help too.
Outdoors
At all costs, you will want to ensure no water is able to get into your property, and so by preparing the exterior of your property, you'll be one step towards that. Do some landscaping, so large trees and branches have no opportunity to inflict exterior damage.
Is your property graded – does it drain water away from the building? Also, check the exterior of the building for cracks, stains, and leaks. Monitor snow piles and remove them, de-ice sidewalks and walkways, and regularly replace wet floor mats in entryways.
Having an emergency response partner in place before winter strikes can help reduce damage to your property and the unnecessary stress that comes with dealing with a commercial property disaster.
Even with preventative measures, winter can serve up a curveball, such as heavy snow, blizzards, ice, harsh winds that are able to damage your property.
How We Can Help
No one knows what winter will bring, but you can rely on the experts at Blackmon Mooring & BMS CAT to restore, rebuild and recover your property from winter weather damage.
It's important that you work with a business with a reliable local reputation. You should make sure the organization you hire has extensive experience handling the maintenance and repair work you may need.
When Mother Nature or man-made accidents strike, we are there for you with a full range of disaster recovery and restoration services, including commercial restoration services.
Founded in 1948, our company has the experience, equipment, and people to handle any size restoration job.
At Blackmon Mooring & BMS CAT, we have locations strategically placed throughout the country, allowing us to mobilize crews and equipment promptly.
Also, our 24-hour Information Exchange Center (IEC) monitors the weather so that we can position response teams throughout the path of the inclement weather.
Contact us today at 877-899-0676 for more information.