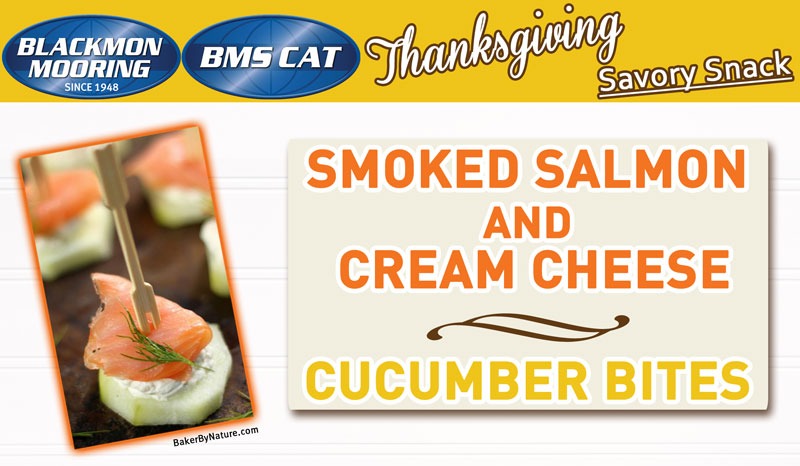 Serve this quick Thanksgiving bite as an appetizer to effortlessly work in some fish before the traditionally meat-focused meal.
Smoked Salmon & Cream Cheese Cucumber Bites
Prep/Total Time: 10 minutes                       Yields: 40 Bites
Ingredients
2 English Cucumbers, peeled and cut into 1″ rounds
1 pound smoked salmon, cut into bite-sized pieces
(1) 8-ounce package cream cheese softened
3 tablespoons fresh dill, chopped
1 tablespoon Horseradish (more or less to taste)
1 tablespoon heavy cream, optional
Toothpicks or tiny party forks
Instructions
Peel cucumbers and slice them into 1″ circles. Arrange on a platter as desired. Place in the refrigerator while you prep the cream cheese.
2. Place cream cheese, dill, horseradish and cream in a large bowl. Beat until well combined (a handheld mixer really helps here).
3. Spread 1 teaspoon of cream cheese on top each cucumber slice, then top each slice with a bite-sized piece of smoked salmon. Insert a toothpick down the center to keep in place.
4. Serve at once, or keep in the refrigerator until needed.
Recipe: https://bakerbynature.com/