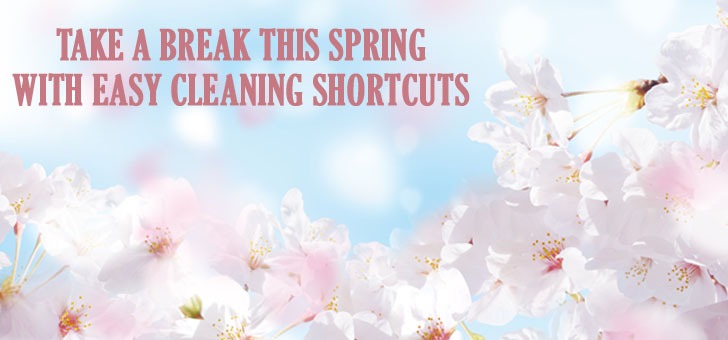 Spring has officially begun, and for many of us, it's a busy time filled with sprucing up our homes inside and out and from top to bottom. In fact, 72 percent of people engage in spring cleaning each year, according to the American Cleaning Institute.
But, spring is also a time to take a break to enjoy the warmer weather, explore new places and experience new things. Give yourself the chance to savor the season with these smart shortcuts that will have the most stubborn parts of your home cleaned in no time.
Deploy an all-hands-on-deck declutter time. It's amazing how much more you can get done when everybody pitches in. Get the whole household involved by setting a timer for 10 minutes and mandating that everyone picks up and puts away at least 10 items. The more people you have on deck, the faster your house will go from messy to marvelous.
Keep hands off the kitchen sink. After cleaning the sink, take a sheet of wax paper and rub it over the faucet to prevent water spots and fingerprints.
Wash and sort socks with ease. Give each household member a lingerie bag for dirty socks. Toss a full bag in the washer. Once it's washed and dried, you can return the bag to its owner without sorting the socks.
Enlist an easy breezy way to reuse old pillowcases. Clean your ceiling fans in 30 seconds or less by hooking an old pillowcase over one fan blade at a time and wipe it backward. This removes all the grime and traps it inside the pillowcase without it falling to the ground.
Get to flossing (the toilet that is). Cleaning behind the toilet is a dirty job. To get back there, take two or three paper towels and roll them up tightly, as if you're rolling a cigar, dip them in a bucket of cleaner (like Scrubbing Bubbles). Then, while facing the toilet, place the roll of towels behind it; take one end in either hand and "floss" the back base. Let the cleaner sit for five or ten minutes, and "floss" the base again, this time with dry paper towels, which should also remove lint.
The point, click and outsource a task. Hesitant to tackle a big job, like cleaning carpets, air ducts or tile and grout? Hire a trustworthy and tested pro to mark this off your cleaning checklist.
For more information about Blackmon Mooring's residential cleaning services or to check out our specials, click here!