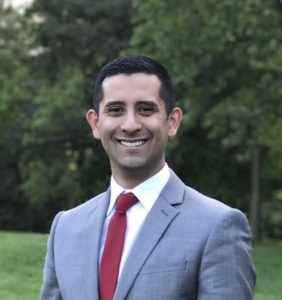 Blackmon Mooring & BMS CAT were blessed in 2017 to welcome Ax Torres to our family, as the General Manager for our Orlando location. He took over the GM role just in time for Hurricane Irma to hit the East Coast. Although he was new to Florida, having moved from Chicago a few weeks prior, Ax reacted to the storm with the kind of calmness, determination and level-headedness of a seasoned pro.
I was fortunate enough to travel to Florida after the hurricane passed to be part of BMS CAT's National Response Team. Although my time in the Orlando office was brief, I got to work closely with Ax and was deeply impressed with the way he flawlessly handled scheduling and budgeting for projects – both existing and incoming. He managed that pressure with a smile, while proudly telling me that he and his wife were expecting their third child. I had the chance to speak with members of our Orlando crew, and the way they spoke regarding Ax's dedication, kindness and leadership made me eager to learn more about him. Hence, he was at the top of my list to reach out to as I kick-off an upcoming series of spotlights on our employees that embody the True Blue spirit and make our company so special.
Me: What is your favorite moment so far working at BMS CAT?
Ax: So far it's the first job we did after the hurricane, which was providing support to a large world-renowned hotel. Our crew moved quickly and made efficient work of our tasks to the point where we were asked to take over other sections of the hotel that other contractors were struggling with due to human resource issues. Within hours, we had over fifty people assisting those contractors and clearing so much debris that the hotel was able to reopen their pool and outdoor activities for their guests within 48 hours of Hurricane Irma's damage. It was very rewarding to see our team in action, and more importantly, our customer very satisfied.
Me: Since BMS CAT is a family-owned and operated company, we are all about family. How do your family members feel about you working at BMS CAT?
Ax: Working for BMS CAT has been a great privilege for me and my family. I have two young children, and one on the way, and they really take pride in knowing that their dad is someone who helps others in times of need. Having met my wife while enlisted in the USAF, she understands and appreciates my commitment to something larger than myself, even if that requires time away from the family. Although they miss me when we spend time apart, we video chat and stay in contact. My family knows that once the disaster is over, BMS CAT will allow me the time I need to regroup with family.
Me: What do you feel is a perk of being a General Manager for BMS CAT? (I'll let Ax speak for himself, but I particularly love that he has so much joy in helping create that "spark of passion" in his team. That is a sign of a truly great leader.)
Ax: For me, the biggest satisfaction that I get out of training and leading a team is seeing the spark of passion that they have for their role. When I see someone light up about learning a new process, or creating something I've never thought about, I get really excited as well and feel like it's my first day all over again. This perpetual momentum of realizing and renewing our passion for the work is unbelievably exciting, and lets me know that I have a great team.
I hope you enjoyed meeting Ax Torres and see the value he brings to our company. Be sure to check back later this month, as I will be adding more information about Ax including his hobbies, his family and the YouTube channel that ties them all together.