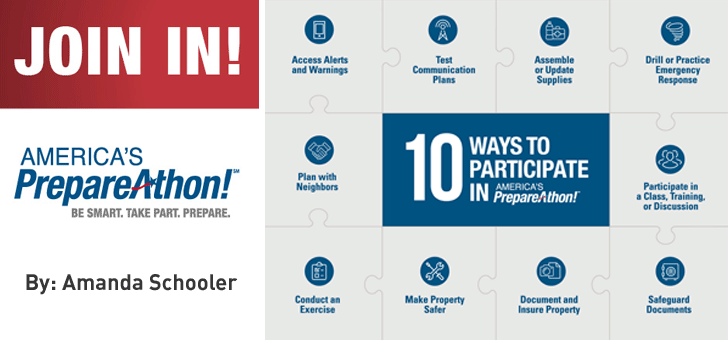 Today is America's PrepareAthon!, a national day designated for learning how to prepare for destructive disasters.
Every year disasters strike anytime and anyplace. Nearly every region of the country experiences some form of extreme weather event, including devastating tornadoes, floods, earthquakes and winter storms.
As with many life events, preparation is the key to success. When you prepare and practice for an emergency in advance, it makes a real difference in your ability to take immediate and informed action when it matters most. Early action can also help you to recover more quickly.
As part of America's PrepareAthon!, we created the "Be Disaster Aware, Take Action to Prepare" initiative to help educate communities about the importance of having an emergency preparedness plan in place.
Now is the perfect time to build an emergency kit and make a family or company communications plan. Having the right supplies you need and a plan to connect with family members and co-workers are the first steps toward surviving a disaster.
Click here for more information, tips, checklists and preparedness toolkits for numerous disaster situations!