The 4th of July is on a Tuesday this year and many Americans will have the day off. The anniversary of the Continental Congress approving the final Declaration of Independence on July 4, 1776, is one of my favorite holidays. Honestly, I love all patriotic events. When the Olympics are on, my family must endure an "American" meal while donning their red, white and blue. We cheer fervently when the good ole USA wins an event. We even hold competitions in the backyard that mirror Summer Olympics events.
So it comes as no surprise to anyone who knows me, we almost always have some sort of 4th of July get together. This year will be no exception. I am hopeful that, with proper planning and preparation, this year's party will be one to remember!
What to Wear for the 4th of July?
Where we live it is H.O.T. during July so one's attire must be carefully chosen. It can't show sweat, but it also must protect you from the sun's damaging rays. You don't have to get a 4th of July-specific shirt, although there are plenty out there. This year, my boys are wearing red shorts and a cooling navy shirt, while my daughter is wearing these shorts with a navy sleeveless top (make sure to always check for coupons and free shipping before pulling the trigger on purchases). I also found this great hat which protects my face from the sun while staying on theme!
Festive 4th of July Fun
We are lucky to live in a great neighborhood that has a parade each 4th of July. It is in the morning due to the aforementioned heat so we are freed up for other festivities the rest of the day. The kids have great fun decorating their bikes, trikes wagons and scooters for the 6 block-parade. I have already hit up the dollar store for some beads, tissue paper, pre-made bows and glow sticks. The point of the parade isn't to have the most pin-worthy vehicle, the point is to let the kids get into the festivities by decorating! I pretty much let them do whatever they want to their bikes and helmets as long as they use removable tape. This site has some of the cutest patriotic bike parade decorations around. Mine surely won't look as good but that's part of the fun. Even if there is no parade in your area, there is absolutely no rule saying you can't decorate your own bike and create your own parade!
4th of July Food Ideas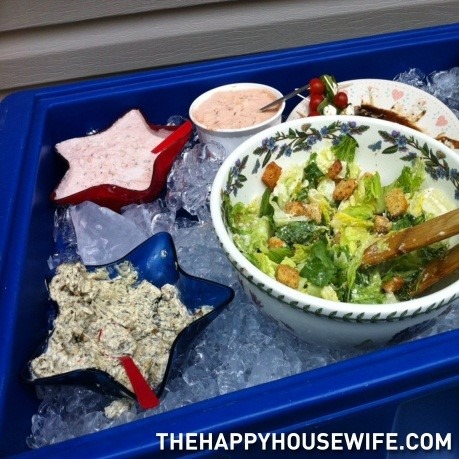 Our party will be by the pool (again the heat), so I prefer to make our food ahead of time or cook on the grill. To start, we fill a bin or kiddie pool full of ice then place any appetizers in there to make sure they keep cool. No one wants a 5th of July stomach ache! Make sure to whip up a festive patriotic cocktail like this to keep the party hoppin!
My all time favorite 4th of July recipe is by far the easiest. With a few simple modifications, this yummy cake isn't even all that bad for you…I use angel food cake instead of the pound cake and make sure to get the light version of the cool whip.
Kaboom for 4th of July!
No 4th of July would be complete without some sort of fireworks! Make sure you plan ahead and pack plenty of drinks and snacks if you are going to travel for viewing. My kiddos love anything glow in the dark so head back over to the dollar bin and grab all that you can. If you have little ones, hit the easy button and keep it simple with a few festive sparklers in the driveway. This article has great 4th of July safety tips for those tiny fingers.
At the end of the day what we wear, what we eat and how we celebrate is all just fluff. We are really celebrating the men and women throughout history who have dedicated their lives to protecting our freedom.