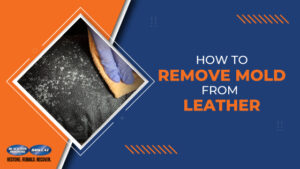 Mold buildup may be the number one reason the average lifespan of even superior-quality furniture has been reduced to 7.8 years. But that doesn't mean it is the end of the world if you see mold creeping onto your favorite couch before the expected expiry date.
Consider yourself lucky if you spot this culprit before it causes more damage to your furniture. If that's the case, acting fast is your next best option.
Here's how to remove mold from leather and stop it from ruining your prized possessions:
Identify Mold and Mildew
Before we talk about mold removal in detail, let's address the confusion people often have about mold and mildew. Both of them are classified as fungi, thrive in warm and moist places, and cause long-term health issues if not dealt with immediately. But they are not the same thing, which means cleaning one is different than cleaning the other.
There's one quick way to tell the difference between mold and mildew. The color of mold is black or green, while mildew appears white, gray, or yellowish.
Now that we got that out of the way let's go over the supplies you need to remove mold from your furniture.
Use Proper Equipment
Prepare everything you need before taking on the big task of leather mold removal. Because we are dealing with leather, you should only use appropriate supplies for this type of material. You would not want to ruin your leather furniture through another means while trying to rid it of mold buildup.
Gather all these goods for cleaning:
Dry clean cloth
Soft bristle brush
Sponge
Mild soap or detergent
Warm water
Rubbing alcohol
Cotton swab
Vacuum with upholstery attachments
Include these items in your preparation to prevent the mold from transferring to different parts of your body:
Remove Mold From Leather the Right Way
A quick search on the web will show you various ways to remove the pesky mold growth from your leather furniture. Here, we offer you a comprehensive option to deep-clean your stuff and stop the spores from creating more damage.
Take the Mold-Infested Item/s Outside
The interesting yet annoying fact about mold is that it only needs one spore to start its colony. So you have to stop those spores from multiplying right away. Otherwise, they can spread to other areas of your house. This means you have to take the leather items outside for thorough cleaning.
Make sure to wear rubber gloves and a face mask to prevent the mold from getting to your body. Once you're properly equipped, you can initiate the cleaning. First, take your dry, clean cloth or soft-bristled brush and scrub away the spores.
Next, pay attention to storage. If your leather items are stored in paper boxes, it is better to discard these containers. If they're placed in fabric containers or hanging bags, wash these storage supplies in hot water. Then go for the kill; use high heat to eliminate the remaining spores. Also, each of the leather goods that are kept in the closet should be vacuumed while you empty out the area. Apply a hydrogen peroxide solution to wipe down the walls and floor, letting them dry all the way before returning the items.
Also, keep in mind that mold loves humid areas. So if you notice your storage area is humid, you can buy a dehumidifier to thwart another mold invasion.
2. Soap It All Up
Now we've arrived at the exciting part: cleaning with soap. Mix up warm water and mild detergent solution in a small plastic container or bucket. You would want to use dish soap or laundry detergent free of bleaching agents, dyes, or fragrances. Or go for a leather saddle soap instead if you have it on hand. It's all about gentle cleaning when your leather furniture or other items are involved.
Next, soak a clean cloth or sponge in the solution and use it to wipe down the entire leather surface and interior. Reach for the crevices and corners if you can. Then soak another piece of clean cloth in plain water, which you can use to wipe away soap residue.
Once you're done, place the items on a flat surface to air dry. However, be wary about putting them near direct heat or under the sun. If you want your items to dry faster, recirculate air by pointing a fan in their direction. The leather parts should dry completely before proceeding to the third step.
3. Kill All the Spores
You've probably noticed that killing all the spores is a huge step in how to remove mold from leather. As we said, it takes only one spore to create a colony. You have to be sure no spores are hiding in the hard-to-reach sections of your leather items. Below is our recommended procedure to achieve success.
In a clean container, mix equal parts of plain cool water and rubbing alcohol. Dip a clean cloth in the mixture and use it to wipe down the leather. If you're handling mold in shoes, reach for the gaps with a cotton swab.
Apply the rinse afterward just like you did with the two previous steps. Then air-dry the items once more. In order to keep the shape of shoes and boots, stuff them with clean white paper. Avoid crumpling newspaper even if that seems convenient because you can end up staining your socks and feet with ink when you wear the shoes.
4. Recondition the Leather
So you're done drying the leather for the umpteenth time. Now what? The thing is, the process does not end with removing the mold. It is only the beginning. You will have to treat the leather to avoid downgrading the material.
How does it work? So leather is a natural product that contains oil, which means it requires proper maintenance post-mold elimination. Skipping this part can lead to surface cracks. This is the result of the oil expanding due to the changing temperatures.
To prevent that from happening, take the time to apply a leather conditioner to your items. This product is included in the things you need to prepare before cleaning. You can buy leather conditioners in the cleaning sections of retail stores or online. So as soon as the leather item dries, use the conditioner to keep the oil at its proper state. Meaning, the leather will return the finish to a supple touch, preserving its surface and making it look newer.
How To Prevent Mold Growth on Leather
After going through all the steps above, you probably do not want another mold infestation to catch you off-guard. The key now is to be proactive and practice good prevention. This is the ideal situation for anyone who has ever learned how to remove mold from leather out of necessity. History repeating itself – that is, the return of mold growth – isn't a good look on your leather furniture or item.
Thus, you'll be better off investing your time, money, and energy into conducting the following preventative measures:
Control the environment of your leather item storage areas. Check for the temperature, humidity, and airflow regularly to keep them at optimal levels.
Clean your storage areas periodically. Mold thrives on natural products like leather; they can easily turn this material into a feeding and breeding ground. You can observe this phenomenon with dirty clothes with food or mud debris, where mold colony growth exists if not attended to immediately. In that case, don't try storing a soiled item.
Reduce the moisture levels in your home by using a dehumidifier. You can also go the extra mile and start waterproofing foundations and other areas susceptible to dampness. Also, something as simple as keeping the windows open and fans running, can improve and increase air circulation, allowing everything to stay dry.
Spare some time to inspect all your leather items. A good rule of thumb is to take out your leather goods when the seasons change and you're up for a wardrobe switch. Carefully check the items in a well-lit area to catch any sign of mold buildup. Another option is to use mildew inhibitors in your storage areas. These are helpful preventives for when you suspect having mold problems in places you can't reach. You can also throw silica gel into your storage areas as it effectively absorbs air moisture.
Take Your Leather Mold Removal to the Next Level Today
Mold might be a minor inconvenience at first, but it can grow into a more serious problem the longer you leave it alone. Proactively dealing with it as soon as you spot the issue can make a world of difference. Use this guide whenever you have to get rid of mold that's causing your leather to lose its quality.
But what if you suspect that your house has a severe mold problem? Then this calls for the service of a mold removal expert – partner with us to achieve a faster resolution. Contact us today to learn more about how we help make homes mold-free quickly and effectively.