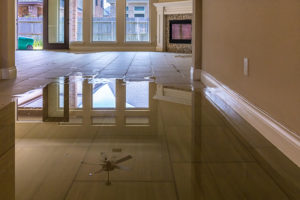 Nearly 40% of homeowners in the U.S. have incurred losses caused by water damage. Most of these problems are caused by leaky roofs, faulty plumbing, broken washers and water heaters. Natural catastrophes such as massive flooding and hurricanes also ruin houses with different scales of severity.
During a water damage disaster, many homeowners feel helpless, especially if most of the floor is still under water. The situation may appear bleak, but in most cases, there is a high chance of recovering your home from home water damage quickly. The first step is not to panic. Keep calm and figure out where to begin. Here is a short series of simple steps to guide you to a successful home recovery after water damage.
Safety First
The very first concern should be the safety of you and your family. If there is stagnant water, begin by switching off electrical power to the entire house or the flooded area. Live electricity and water are a lethal combination. After that, close the main water inlet valve to prevent any possibility of contaminating the water system. In a large flood, you may also need to cut off the gas supply. Identify and dispose of any damaged food; this will prevent food poisoning by accidental consumption. Don't wade through a flooded floor without proper protection, especially in murky water. Sharp objects may be lurking at the bottom of the water. Wear sturdy waterproof boots when walking on a flooded floor.
Dry Your House
The next step is to get rid of the moisture. In a heavy flooding situation, wait till the floods dissipate before you can start drying out your house. Use electric, gas or hand pumps to remove stagnant water. Locate the lowest part of the flooded floor and place the pumps there. Be careful with electric-powered pumps to avoid electric shock. You could dump the excess water into the sewage system, a tanker truck, or the backyard where it won't cause any harm. After all the water is out, circulate dry air within the house. Open up windows and doors to let in the fresh air. If it's safe to use the mains system, install electric fans to blow air to specific areas. Even better, if the heating system is still usable, power it up to warm the house and drive moisture away. Drying out the house prevents molding and keeps the rot away.
Pick Up Debris
Clear out any debris brought in by the water. Flood water is especially messy; there may be sediments, leaves, tree branches and even garbage. Identify anything that can be salvaged. This could be your precious heirlooms, rugs, furniture or drapes. Any salvageable valuables should be kept in a separate dry room if possible, or away from the house altogether. Anything that is severely damaged should be thrown out or retained for insurance purposes. Clear out as much clutter and debris as possible to reveal the extent of the house water damage.
Assess the Home Water Damage
With everything out of the way and mostly dry, you can now assess the level of damage. You may need to call in an inspector with a keen eye to examine the property. Check for damage or mold on the floor, walls and plumbing system. Get a clear picture of the extent of damage, what needs to be done and find out how much it should cost to fix both in terms of time and money.
Call the Insurance Company
After a detailed assessment of the damage, call your insurance company to find out how much of the damage they will cover. Your insurer will probably send a claims adjuster who will document all the steps you have taken so far and the valuation of damages. According to your insurance policy, the insurer could chip in a large part of the repair and restoration costs. Contact other insurers covering assets like your car or other valuables damaged along with the house.
Begin Repairs
Finally, it's time to begin repairs. If only some rooms of the house are damaged, your family could still live in the safe parts of the house. However, if the house needs extensive repairs, you may have to find a temporal shelter. Get a reputable contractor with experience in water damage to carry out the repairs. Ensure you get a reasonable quote on the service, and that the contractor sticks to a strict time budget. Most water damage repairs include floor, walls and doors repairs or replacements. Check with the authorities whether certain repairs are allowed or require a city permit. The restoration period depends on the extent of the damage. Floor work usually takes a lot of time, so make sure you are prepared for that. After the repairs, make a few touch ups like paint jobs and restoring any peripheral systems such as plumbing and electrical systems in case they were damaged as well.
You're Finally Ready to Settle in
After all the repairs are done, the house is finally ready for you to move in. Bring in your furniture and belongings and prepare to resume your normal living. However, you may want to have a house inspector examine the house at least once shortly after the repairs. This is just to make sure that the house has been restored to its former glory and that there are no red flags to worry about.
If you have had the misfortune of home water damage, relax and follow a series of decisions that see to quick home restoration. Don't make any snappy judgments or assumptions. You will count some losses, but at least the house is salvageable and that's what matters.
Are you having trouble figuring out how to restore your house after water damage? Blackmon Mooring & BMS CAT are here to help. We specialize in repairing damaged homes, and we have been doing it for decades now. Get in touch with us and find out how we can help you.