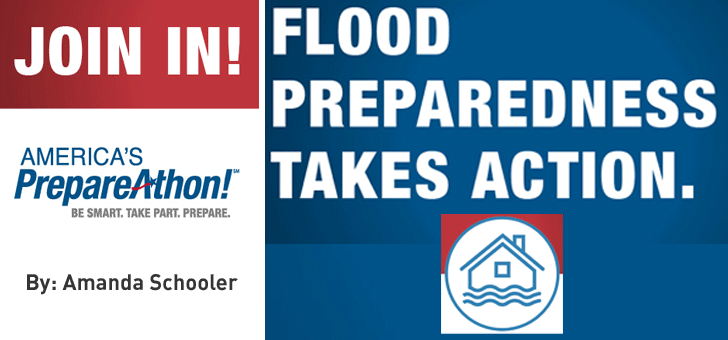 Did you know floods are one of the most common hazards in the Unites States? Flooding can occur during any season, but some areas of the country are at greater risk at certain times of the year.
Coastal areas are at greater risk of flooding during hurricane season (i.e., June to November), while the Midwest is more at risk in the spring and during heavy summer rains. Ice jams occur in the spring in the Northeast and Northwest. Even the deserts of the Southwest are at risk during the late summer monsoon season.
April kicks off America's PrepareAthon!, and it is the perfect time to learn what protective measures to take before, during and after a flood. Protecting yourself today means having sources for information, preparing your home, developing an emergency communications plan, and knowing what to do when a flood is approaching your home. Taking action today can save lives and property.
To begin preparing, it's important to first build an emergency kit and make a family communications plan.
In preparation for a flood, you should take the following additional measures:
Avoid building in a floodplain unless you elevate and reinforce your home.
Elevate the furnace, water heater and electric panel in your home if you live in an area that has a high flood risk.
Consider installing "check valves" to prevent flood water from backing up into the drains of your home.
If feasible, construct barriers to stop floodwater from entering the building and seal walls in basements with waterproofing compounds.
For additional information, tips, checklists, and preparedness toolkits click here!