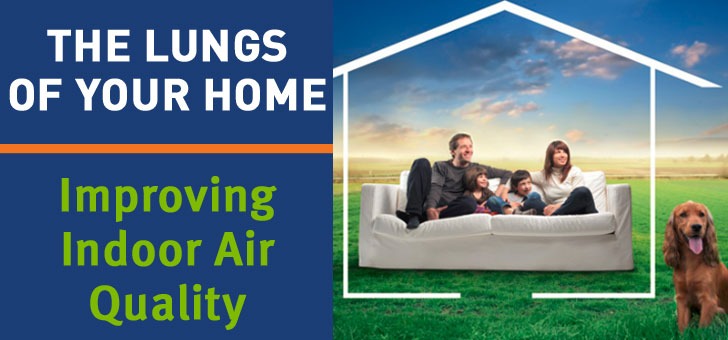 Your home's heating and the cooling system act as the lungs of the property as it works to take air in and exhaust air out of the structure. And…just like the rest of your house, it can build up with mold, mildew, dust and debris.
According to the National Air Duct Cleaners Association, up to 40 pounds of dust is created annually through everyday living in a typical six-room home. Additionally, the Environmental Protection Agency (EPA) reports poor indoor air quality is one of the top five largest environmental threats to Americans today. That's why protecting the health of your family and your home's duct work is so important.
Be sure to check out our Air Duct Cleaning Resources page for additional information!
Six simple ways to improve the air quality in your home
Clean regularly. Although it might be tempting to put off your chores, keeping your house clean can help reduce allergens and irritants.
Remove your shoes. When you enter your home, lose the shoes. Shoes track in dirt, lawn chemicals, and more. Have a nice pair of slippers waiting for you at the door instead.
Bathe and groom your pet. During the winter months, your pets spend more time indoors, increasing the amount of fur and dander floating around your abode. Bathe and groom your pet regularly to help minimize this problem.
Replace the filters. Regularly checking and replacing the filters in your home's heating and cooling system helps minimize the contaminants in the air. Electrostatic filters tend to catch more airborne particles than standard filters, so it may be wise to invest in one.
Open the windows. It's important to let the fresh air in. Open the windows and/or turn on the ceiling fans to help get that air circulation throughout the house. When you're cooking in the kitchen, be sure to turn on the exhaust fan to release the vapors, grease, and smoke that are released when you cook.
Keep up with routine air duct cleaning. Routine air duct cleaning by certified professional technicians helps to keep the indoor air in your home from being contaminated with mold, dust and small particles that can be inhaled and can trigger asthma and allergy issues.
Breathe easier with routine air duct cleaning from the professionals at Blackmon Mooring. Call us at [bpl_main_phone] or schedule online!