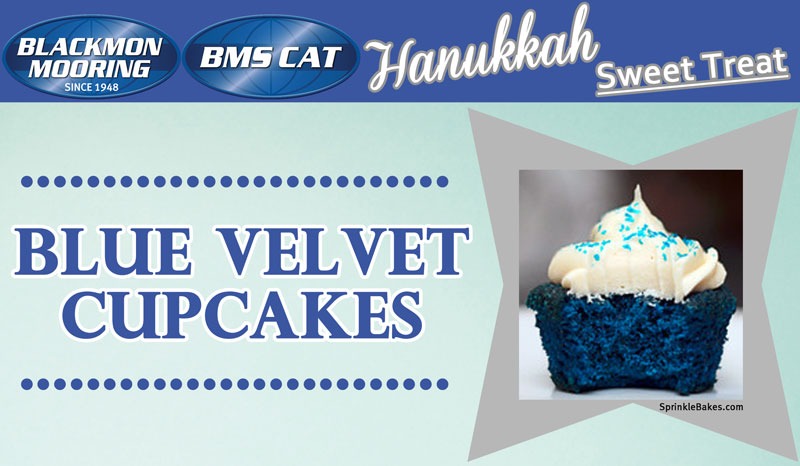 Rugelach, doughnuts and cookies – oh, my! There are many delicious recipes that end your Hanukkah meal in the traditional way or with a sweet twist. I for one am obsessed with cupcakes. They are easy to eat, already portioned out so I don't overindulge…and they are just adorable! Cupcakes have always been popular, but in the early 2000's, gourmet cupcakes started exploding in terms of popularity. And today, the cupcake trend is still going strong, so I found it fitting to showcase this recipe:
Blue Velvet Cupcakes
Yields: 26 cupcakes
Ingredients
For the Cupcakes
2 cups sugar
½ pound (2 sticks) butter, at room temp
2 eggs
1 tablespoon cocoa powder
1 Tbsp Wilton royal blue gel food coloring
1 small dab of violet gel food coloring
2 ½ cups cake flour
1 teaspoon salt
1 cup buttermilk
1 teaspoon vanilla extract
½ teaspoon baking soda
1 tablespoon vinegar
For the Frosting
1 pound cream cheese, softened
2 sticks butter, softened
1 teaspoon vanilla extract
4 cups sifted confectioners' sugar
Instructions
For the Cupcakes
Preheat oven to 350° F. Prepares cupcake pan(s) with paper liners.
In a mixing bowl, cream the sugar and butter, mix until light and fluffy. Add the eggs 1 at a time and mix well after each addition. Mix cocoa and food colorings together to form a paste, and then add to sugar mixture; mix well. Sift together flour and salt. Add flour mixture to the creamed mixture alternately with buttermilk. Blend in vanilla. In a small bowl, combine baking soda and vinegar and add to mixture.
Pour batter into cupcake papers. The batter will be thick! Bake for 25-30 minutes, or until a toothpick inserted into the center comes out clean. Remove from oven and cool completely before frosting.
For the Frosting
In a large mixing bowl, beat the cream cheese, butter, and vanilla together until smooth. Add the sugar and on low speed, beat until incorporated. Increase the speed to high and mix until very light and fluffy. Frost the cupcakes with a butter knife and embellish as desired.
Recipe: https://www.sprinklebakes.com/2010/02/blue-velvet-cupcakes-and-finding.html