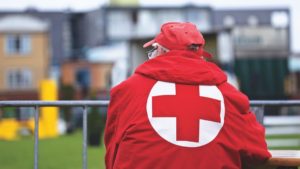 The Red Cross organization has become a household name in the aftermath of disasters. Whenever disaster strikes, they are one of the first organizations on the scene. With a strong hurricane season looming ahead, not only do you want to make sure that your home is taken care of, you also want to be in a position to help others in need. There are more than 500,000 Red Cross volunteers just in the United States, spread across 600 locations. Are you interested in becoming a Red Cross volunteer? Find out what it takes and what to do to become a Red Cross Volunteer.
A Brief History of the Red Cross
When considering volunteering for an organization, it helps to know the history and values of the organization to make sure it aligns with your own. The Red Cross was founded in 1881 by Clara Barton and has grown since into the massive entity is is today. It is an organization that helps service members and their families, and provides disaster relief at home and abroad. Believe it or not, the Red Cross supplies about 40% of the blood products in the United States. Outside of the disaster relief scope, the Red Cross also offers CPR training and certifications.
Meet the Requirements to Volunteer
The Red Cross doesn't accept just anyone to volunteer at the organization. The organization holds its volunteers to very high standards in hopes of protecting its strong reputation. All Red Cross Volunteers must be at least 18 years old, though in North Texas there are some volunteer roles offered for those between 13-17. There is also a background check applicants must pass in order to be a volunteer.
Know Why You Want to Volunteer
An organization like the Red Cross depends on volunteers around the clock to operate. It's not just about showing up in a crisis, but also how you can contribute to the organization in other ways. Prior to committing to be a volunteer, ensure that you are going to follow through with your commitment. The worst thing you can do is to say that you'll do something and not show up. Doing so can leave the organization and other volunteers scrambling to fill the void and that's not fair to them, or those they are serving. Having a clear personal understanding of why you want to volunteer at the organization will help maintain your motivation, allowing you to avoid having moments of backing out or not showing up. It is also advised you think about the amount of time you can reasonably commit to and sticking with it. Your life and lifestyle need to come into consideration when volunteering, be honest with yourself and the organization. Do not stretch yourself too thin and commit to hours you won't be able to follow through with. Being a good volunteer begins with being reliable and holding yourself accountable to the commitment you made.
Find a Red Cross Location
Your next step in volunteering for the Red Cross is to find a location closest to you. In the Fort Worth area, there's the North Texas chapter, which has a few locations in the Fort Worth area that serves an area of 5 million people.
Talk to Other Volunteers at the Organization
If you really want to know how to become a Red Cross volunteer, talk to other volunteers. Schedule a time to go in and meet other volunteers at a Red Cross location. It's an opportunity for you to learn about the different roles and needs of the organization. There may be opportunities that you never knew existed and in which you might be interested. Ask the staff and volunteers thoughtful questions to find out what it's really like to be a part of the organization. If you are unsure of questions to ask, begin with the volunteer turn over rate, the biggest challenges, and opportunities at the Red Cross. You also want to know about their success stories, such as how many people they helped in the area and what kind of disasters they respond to, such as fire, flooding, or hurricane response. Having this personal connection can make your volunteer experience that much meaningful and more fulfilling.
Decide Your Volunteer Role
One of the first questions you'll get asked is what role would you like to help with. Since there are so many opportunities, it can be overwhelming. Think about your skills and experience and how you can use that to help the organization and enhance their team. However, you don't have to stick to only skills you are comfortable with, maybe there are skills that you'd like to learn as well. For example, you may have experience on the board of directors at other organizations or fundraising experience. Those skills can be put to use as a board member of your local chapter. You may want to see if you can try different volunteer roles or shadow volunteers to find the right fit for you. The Red Cross also offers a Volunteer Match. It can match your skill set and your location with the needs of your local Red Cross to accurately place you in the position best suited for you.
Apply to be a Red Cross Volunteer
Your next step is to fill out an application to be a volunteer at the Red Cross. This can be done through the Red Cross website. Provided that your application and background check are good, you'll start your work as a volunteer after training. This can be done online or in-person. It depends on the role and the work that you'll be doing for the organization.
How to Become a Red Cross Volunteer
The Red Cross depends on an army of volunteers to provide incredible services to help people in a time of need. If the Red Cross sounds like a good fit for you, take time to think about why you want to volunteer and what you can contribute to the organization.
The greater clarity you have on your reason for volunteering and the more you learn about the organization, the better prepared you will be to be an amazing volunteer.
Want to stay up to date in disaster preparedness and response trends? Find out what the Atlantic hurricane season has in store this year.