Summer Cleaning Tips
Summer — the word brings visions of sunshine, relaxation and care-free days. Unfortunately, with the kids at home, areas of your home still need to be cleaned. While the weather is warm and sunny, tackle these home projects and enjoy mess-free summer months.
Tackle Window Cleaning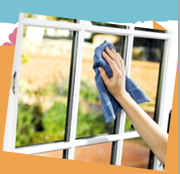 When the sun shines brightly through your windows all summer, any children's fingerprints, dog nose prints or dirt will be clearly visible. Since window cleaning requires either working outside or removing the windows, you'll want to do this work when the weather is still warm.
Clean Door and Window Tracks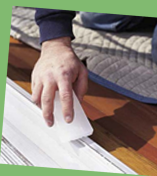 Summer equates to open windows and doors, so you need to ensure opening and closing them is an easy task. Now's the time to clean away the gunk that's collected in the tracks since their last cleaning.
If the gunk is gone but the windows and doors are still sticking, try applying some WD-40 to the tracks to make sure the doors and windows glide smoothly.
Wash the Home Exterior
Summer gatherings of friends and family tend to involve time spent outdoors barbecuing, playing games or soaking up the sun. Just as you'd typically clean inside your home before inviting guests over, you should consider cleaning the outside of the house.
Home exterior areas include your siding, deck and driveway. You can rent a pressure washing machine or hire a professional to perform the work. However, when it comes to siding proceed with caution. Some experts warn using a pressure washer on siding could do more harm than good.
Clean out the Pantry
Many of the insects that don't go toward the light will go on a search for your food. Therefore, summer is a great time to go through your food pantries and make sure everything is sealed properly so bugs can't eat your groceries.
Consider donating any items you no longer want to a local food bank. Throw away any food items that have passed the expiration date.
Click here to view more sections of our Summer Guide!