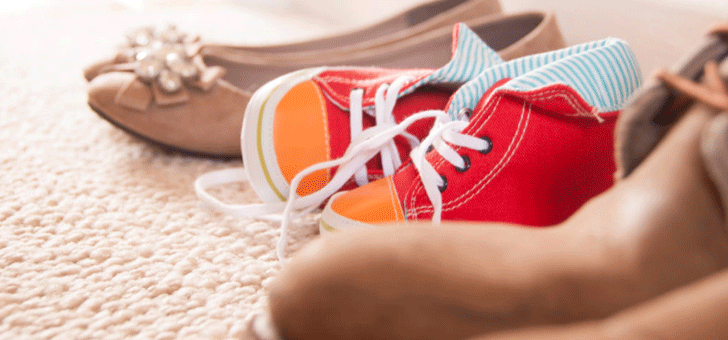 Dirt, bacteria, and allergens are worked deeper into your carpet with every step of foot traffic that moves its way through your home or office on a daily basis. Vacuuming your carpet regularly will help keep the surface clean, but other pollutants still lurk underneath. Among those pollutants are dust, pet dander and other potentially harmful, odor-producing particles. Most vacuum cleaners don't have enough power to extract the debris stuck in the pile of the carpet, which is doubly true if you have a high-pile carpet.
Getting your carpets cleaned by a professional company such as Blackmon Mooring can help ensure all the dirt, debris and other particles are pulled from your carpet, giving it a deeper clean, look and feel in addition to the many health benefits.
Hot Water Extraction Method
Blackmon Mooring pioneered the hot-water extraction method, which 25 out of 27 carpet manufacturers recommend as the best method to keep carpets clean and looking like new. Water is heated up to a high temperature and mixed with a water softener. The hot water kills many types of bacteria on contact, while a powerful vacuum sucks out dust, dander and other allergens hiding deep inside your carpets. We don't use any harsh shampoos or chemicals in our carpet cleaning services.
Don't Let the Carpet Mites Bite
Carpet mites, also known as dust mites, are small bugs that are so tiny a microscope is required to see them. When an area is vacuumed, these mites can stir into the air. Mites can easily irritate those who are prone to allergies or have breathing problems and are especially sensitive to those who have dust-specific allergies. To fully and effectively remove the mites from the carpet, you need to have them professionally cleaned. Blackmon Mooring's thorough, detail-oriented carpet cleaning process can help make these pests history.
Maintain Good Indoor Air Quality
Everyone wants to ensure their family members, employees and/or customers are healthy and comfortable. When you have your carpets well maintained and professionally cleaned you are improving the overall indoor air quality (IAQ) of your spaces. The threat posed by mold, mildew, mites and other pollutants is not just that they can stick in the carpet; they can get into the air and float around as well. Those with pets may also experience dander, pet hair and dirt floating around, which often results in unpleasant odors and aggravated allergies.
Professional carpet cleaning can help contribute to better indoor air quality by ensuring your carpet or flooring aren't part of the problem. Addressing your indoor air is one of the biggest favors you can do for people who have asthma or are prone to allergies. In fact, according to the Environmental Protection Agency (EPA), indoor air pollution ranks as one of the top five environmental risks to public health since 1990.
Ensure Your Carpet Enjoys a Long, Full Life
Having your carpets cleaned professionally is one of three basic actions that Blackmon Mooring recommends to promote a long and full carpet life. Along with regular vacuuming and spot or stain removal, professional cleaning will help your carpet look and feel new for years to come. Keeping your carpets well maintained can help you save money in the long run by reducing the frequency with which you need to replace your carpet. This can be especially true for those who have a large family or buildings who have frequent visitors and high levels of foot traffic, as they can see more wear on their carpet in a shorter period of time.
Overall Appearance
Along with maximizing your carpet's longevity, having them cleaned by experts will also make them look refreshed. As carpets experience traffic, they begin to look dingy and dulled, but having a deep clean gives them that new look all over again!
Removing dirt and grime from the carpet pile can even help restore the initial color of the fibers, making them look vibrant and rejuvenated. Your floors are one of the most impactful, defining features of your home or office's overall look, and you can be sure you'll make a positive impression when you have them looking fantastic thanks to Blackmon Mooring's carpet cleaning services!
Call a Carpet Cleaning Professional Today
Not only can your indoor air quality improve, but your home or office could enjoy an overall newer, fresher appearance. Call Blackmon Mooring today at [bpl_main_phone] to schedule the clean your carpets want and the customer service you deserve.