Hosting friends or family for the holidays? Start a month before by finalizing your guest list. Think about how many people you can accommodate at your table for a sit-down dinner or keep things more casual and invite more guests if you're serving buffet style. There's no need for formal invitations; a phone call or email to friends and family is sufficient. This is the time to ask about dietary preferences and if your mother-in-law makes an awesome dish that she'd like to bring. That information will help you plan your menu and identify gaps. Here are a few tasty ideas to consider filling in any holes on the menu with!
Tuesday, November 1
Serve this quick Thanksgiving bite as an appetizer to effortlessly work in some fish before the traditionally meat-focused meal.
Smoked Salmon & Cream Cheese Cucumber Bites
Prep/Total Time: 10 minutes                       Yields: 40 Bites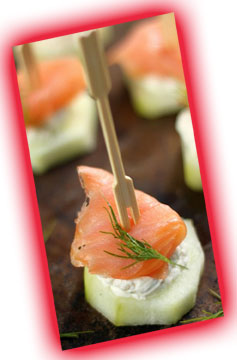 Ingredients
2 English Cucumbers, peeled and cut into 1″ rounds
1 pound smoked salmon, cut into bite-sized pieces
(1) 8-ounce package cream cheese softened
3 tablespoons fresh dill, chopped
1 tablespoon Horseradish (more or less to taste)
1 tablespoon heavy cream, optional
Toothpicks or tiny party forks
Instructions
1.      Peel cucumbers and slice them into 1″ circles. Arrange on a platter as desired. Place in the refrigerator while you prep the cream cheese.
2.      Place cream cheese, dill, horseradish and cream in a large bowl. Beat until well combined (a handheld mixer really helps here.)
3.      Spread 1 teaspoon of cream cheese on top each cucumber slice, then top each slice with a bite-sized piece of smoked salmon. Insert a toothpick down the center to keep in place.
4.      Serve at once, or keep in the refrigerator until needed.
Recipe: https://bakerbynature.com/
Tuesday, November 8
This holiday Pumpkin Fudge recipe brings the taste of the season with pumpkin, white chocolate, and marshmallow.
Pumpkin Fudge
Prep Time: 10 minutes       Cook Time: 12 minutes       Total Time: 2.5 hours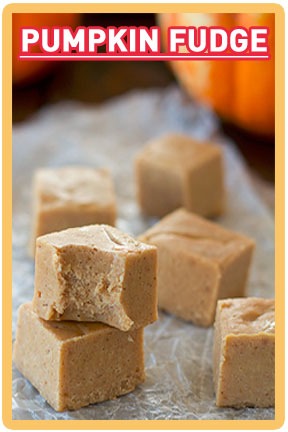 Ingredients
1½ cups of sugar
2/3 cups of evaporated milk
½ cup of pumpkin puree
2 tablespoons of butter
1 teaspoon of salt
2 teaspoons of pumpkin pie spice
12 ounces of white chocolate chips
2 cups of miniature marshmallows
1 teaspoon of vanilla
Instructions
Line an 8×8-inch baking dish with foil & spray with nonstick cooking spray.
In a medium saucepan, combine the sugar, evaporated milk, pumpkin, butter, salt and pumpkin pie spice. Heat over medium heat. Bring to a boil and allow to boil for 12 minutes, stirring often. Remove from the heat and stir in the white chocolate chips and marshmallows. Stir in the vanilla.
Pour into the prepared pan and chill until set. Cut into squares.
Recipe: https://www.tasteandtellblog.com/
Tuesday, November 15
The Not So Dreaded Kids Table
Remember the disappointment at meal time during the holidays when you were told your seat assignment was at the kid's table?
Well here's a fun idea that will have your guests, regardless of age, hoping to find their designated place card at the kiddie table.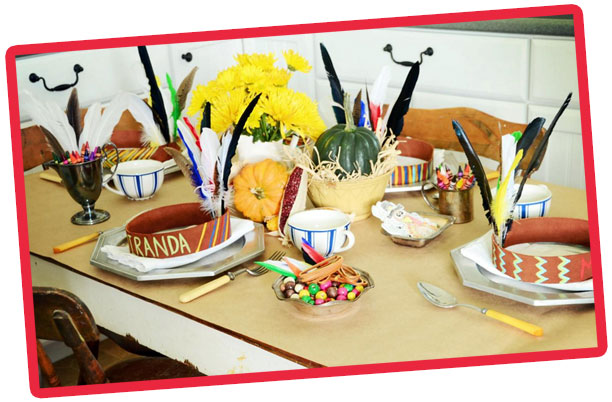 Source: https://www.hgtv.com/design/packages/thanksgiving-ideas?soc=pinterest
Tuesday, November 22
We're not saying you have to give up the beloved leftover turkey sandwich, but why not explore a few new ways to enjoy your Thanksgiving leftovers?
The big meal is over, but who says the feasting has to be? After the many hours that are spent preparing for such a huge spread, Thanksgiving leftovers are a given. We're not saying we're too good for a turkey sandwich, made with leftover turkey, mayo and garlic salt, but why not try this tasty leftover facelift?
Ham-and-Vegetable Cobbler
Yield: Makes 6 servings      Total time: 50 Minutes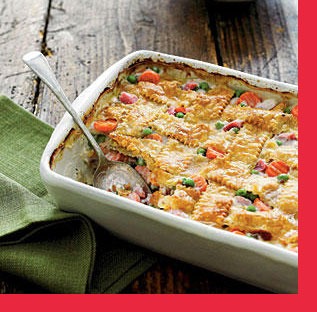 Ingredients
1/4 cup butter
1/4 cup all-purpose flour
3 1/2 cups milk
1/2 teaspoon dried thyme
1 teaspoon chicken bouillon granules
2 cups diced cooked ham
1 (10-oz.) package frozen sweet peas and mushrooms
1 cup frozen crinkle-cut carrots
1 (14.1-oz.) package refrigerated piecrusts
Instructions
1. Preheat oven to 450°. Melt butter in a large saucepan over medium heat. Gradually whisk in flour, and cook, whisking constantly, 1 minute. Add milk and next 2 ingredients; cook, stirring constantly, 6 to 8 minutes or until thickened and bubbly. Stir in ham and next 2 ingredients; cook 4 to 5 minutes or until mixture is thoroughly heated. Spoon into a lightly greased 11- x 7-inch baking dish.
2. Unroll each piecrust on a lightly floured surface. Cut pie crusts into 1 1/4-inch-wide strips. Arrange strips in a lattice design over ham mixture.
3. Bake at 450° for 40 minutes or until crust is browned and filling is bubbly.
Source: https://www.southernliving.com/food/holidays-occasions/turkey-leftovers-recipes
Tuesday, November 29
Roasted Balsamic Cranberry and Brie Crostini
Total Time: 25 minutes       Yields: 12 Crostini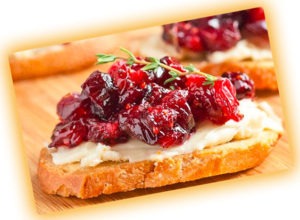 Ingredients
2 Tablespoons butter, melted
2 Tablespoons olive oil
½ a french baguette, sliced thin
12 ounces fresh cranberries
2 Tablespoons balsamic vinegar
½ cup sugar
1 Tablespoon rosemary
4 ounces triple cream Brie

Instructions
Preheat oven to 425 degrees. In a small bowl, whisk together the butter and olive oil. Brush both sides of the baguette slices with mixture. The line on a baking sheet and set aside.
In another small bowl, stir together the cranberries, balsamic vinegar, sugar, and rosemary. Spread these out on a rimmed baking sheet. (They get sticky, so to avoid scrubbing, line the pan with parchment paper).
Place the cranberries in the oven. Roast for five minutes, then add the tray of baguette slices to the oven. Roast for an additional 6 minutes then remove the baguette slices, flip them over, and return to the oven for another 4-6 minutes (or until crispy and golden).
At this point, the cranberries should be popped open with juices running out. Remove both the cranberries and baguette slices from the oven.
Top each baguette with a slice of Brie and a spoonful of cranberries. Garnish with thyme if desired.
Tuesday, December 6
Fried foods are a highlight of Hanukkah meals, especially foods fried in olive oil. Both are a nod to the holiday, which celebrates a lamp in a destroyed Jerusalem temple that burned for eight days on very little oil. This recipe is based on a preparation that originated in Rome's Jewish ghetto.
Fried Baby Artichokes
Total Time: 50 minutes       Servings: 10
Ingredients
20 baby artichokes (about 4 ounces each)
Extra-virgin olive oil, for frying
Salt and freshly ground pepper
1/4 cup freshly grated Parmigiano-Reggiano cheese
1/4 cup chopped parsley
Instructions
With a small, sharp knife, cut off the artichoke stems. Snap off the leaves until you reach the inner leaves. Cut off the top third of the artichokes and trim any tough parts. Quarter the artichokes lengthwise.
In a medium saucepan, heat 2 inches of olive oil to 300°. Fry the artichokes in the hot oil in batches until richly browned and crisp, about 2 minutes per batch. Drain on paper towels and season with salt and pepper. Transfer the artichokes to small plates or a shallow serving bowl. Sprinkle with the cheese and parsley and serve.
Source: https://www.foodandwine.com/recipes/fried-baby-artichokes
Tuesday, December 13
I have always preferred to cook rather than bake, probably because I prefer savory snacks over sweets. When the holidays come around each year, I never know what treats to make that don't require the skills of an expert baker. Last year around this time, I was seconds away from walking to my pantry to grab Baking For Dummies…when I stumbled upon this recipe. Not only is this festive mix great for pleasing a crowd, it's also a perfect party favor, teacher gift or potluck dessert.
Snowflake Mix
Prep Time: 20 minutes     Cool Time: 1-hour     Yield: 16 cups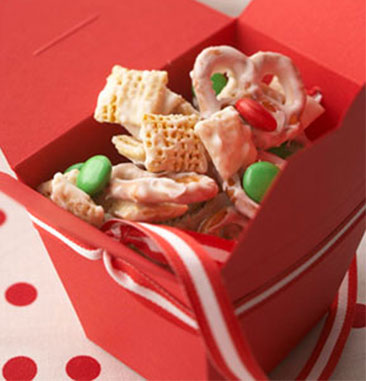 Ingredients
3 cups bite-size rice square cereal
3 cups bite-size corn square cereal
1 cup small pretzel twists or sticks
1 cup honey-roasted peanuts
2 12-oz. packages white baking pieces
1 12-oz. package mint flavored candy-coated milk chocolate pieces
Instructions
In a very large bowl combine cereals, pretzels, and peanuts; set aside.
Melt baking pieces according to package directions. Pour melted chocolate over cereal mixture. Stir gently to coat. Spread on a large piece of waxed paper or parchment paper. Sprinkle with chocolate pieces. Cool and break into pieces.
Store in an airtight container for up to 1 week or freeze for 1 month.
Source: https://www.midwestliving.com/recipe/appetizers-snacks/snowflake-mix/
Tuesday, December 20
Rugelach, doughnuts and cookies – oh, my! There are many delicious recipes that end your Hanukkah meal in the traditional way or with a sweet twist. I for one am obsessed with cupcakes. They are easy to eat, already portioned out so I don't over indulge…and they are just adorable! Cupcakes have always been popular, but in the early 2000's, gourmet cupcakes started exploding in terms of popularity. And today, the cupcake trend is still going strong, so I found it fitting to showcase this recipe:
 Blue Velvet Cupcakes
Yields: 26 cupcakes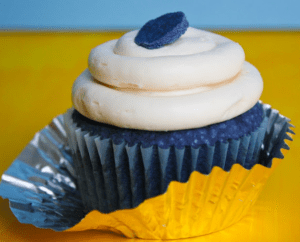 Ingredients
For the Cupcakes
2 cups sugar
½ pound (2 sticks) butter, at room temp
2 eggs
1 tablespoon cocoa powder
1 Tbsp Wilton royal blue gel food coloring
1 small dab of violet gel food coloring
2 ½ cups cake flour
1 teaspoon salt
1 cup buttermilk
1 teaspoon vanilla extract
½ teaspoon baking soda
1 tablespoon vinegar
For the Frosting
1 pound cream cheese, softened
2 sticks butter, softened
1 teaspoon vanilla extract
4 cups sifted confectioners' sugar
Instructions
For the Cupcakes
Preheat oven to 350 F. Prepares cupcake pan(s) with paper liners.
In a mixing bowl, cream the sugar and butter, mix until light and fluffy. Add the eggs 1 at a time and mix well after each addition. Mix cocoa and food colorings together to form a paste, and then add to sugar mixture; mix well. Sift together flour and salt. Add flour mixture to the creamed mixture alternately with buttermilk. Blend in vanilla. In a small bowl, combine baking soda and vinegar and add to mixture.
Pour batter into cupcake papers. The batter will be thick! Bake for 25-30 minutes, or until a toothpick inserted into the center comes out clean. Remove from oven and cool completely before frosting.
For the Frosting
In a large mixing bowl, beat the cream cheese, butter, and vanilla together until smooth. Add the sugar and on low speed, beat until incorporated. Increase the speed to high and mix until very light and fluffy. Frost the cupcakes with a butter knife and embellish as desired.
Source: https://www.sprinklebakes.com/2010/02/blue-velvet-cupcakes-and-finding.html
Tuesday, December 27
Did you know??? Southern tradition holds that the first food to be eaten on New Year's Day should be black-eyed peas for luck and prosperity – specifically, one pea for each day of the year. A few years ago I started the tradition of inviting family and close friends over on January 1st to kick-off the new year by enjoying this recipe and a handful of other dishes that include black-eyed peas.
Zannie's Black-Eyed Pea Dip (courtesy of The Pioneer Woman)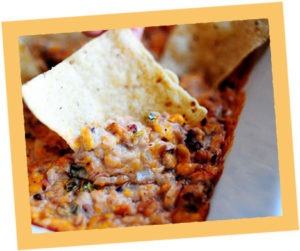 Prep Time: 10 minutes     Cook Time: 30 minutes     Servings: 12
Ingredients
1 can (14-ounce) Black-eyed Peas
1/4 whole onion, chopped fine
1/4 cup Sour Cream
8 slices Jarred Jalapenos
1 cup Grated Sharp Cheddar Cheese
3 Tablespoons Salsa
Hot Sauce (to taste)
Salt And Black Pepper (to taste)
Instructions
Preheat oven to 350 degrees. Drain black-eyed peas and partially mash, leaving some whole.
Add all other ingredients, stirring to combine.
Spread into a 1 1/2 quart baking dish and bake for 20 to 30 minutes until hot and bubbly.
Serve with tortilla chips!
*Note: if you have them available, you can use the canned black-eyed peas and jalapenos (they're canned together.) If you do this, you can omit the extra jalapenos.
Source: https://thepioneerwoman.com/cooking/zannies-black-eyed-pea-dip/