The holidays are a time for welcoming friends and family into your home. It is natural to want perfection, but we all know that is unattainable. So we are dedicating Saturdays to sprucing up your digs while managing your time. After all, you can't truly embrace the magic of the holiday season if you don't have time to sit back, relax and enjoy.
Saturday, November 5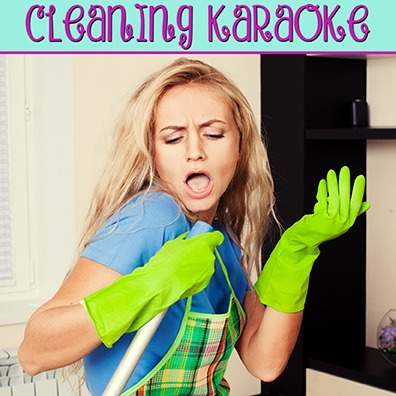 Halloween is over, next it will be Thanksgiving, Hanukkah, and Christmas before we know it. Now is the time to stock up on cleaning supplies and things that will help make life easier when it's time to get scrubbing. Add a few extra things to your cart over the next several weeks so you won't be stressing to grab your favorite spray, disinfecting solutions, soaps, etc. Consider outsourcing some of the tough stuff like dirty carpets, dingy grout, and filthy upholstery.
Pace yourself, instead of trying to cram all of the cleanings into one day, spread the cleaning over a week or more. There are some jobs that don't need to be done often, like dusting the ceiling fans. That can be done far in advance. If you take the time to write it all down and break it up into small jobs, it won't seem as overwhelming.
Make it fun! As fun as it can be anyway! There are some of you that clean and organize to de-stress, so cleaning is fun for you. For others, it's not on your list of preferred activities. When it's time to get busy cleaning, play your favorite movie in the background, blast an awesome playlist, dance around the room, whatever it takes.
Saturday, November 12
Terrific Table Runners
Dress up your dining room table for any of the upcoming holidays with table runners. From classic to contemporary, there are options to fit any ambiance you are hoping to achieve. They won't break the bank, don't take up much room to store, and can take a table from boring to brilliant in a flash! Here are just a few favorites we found…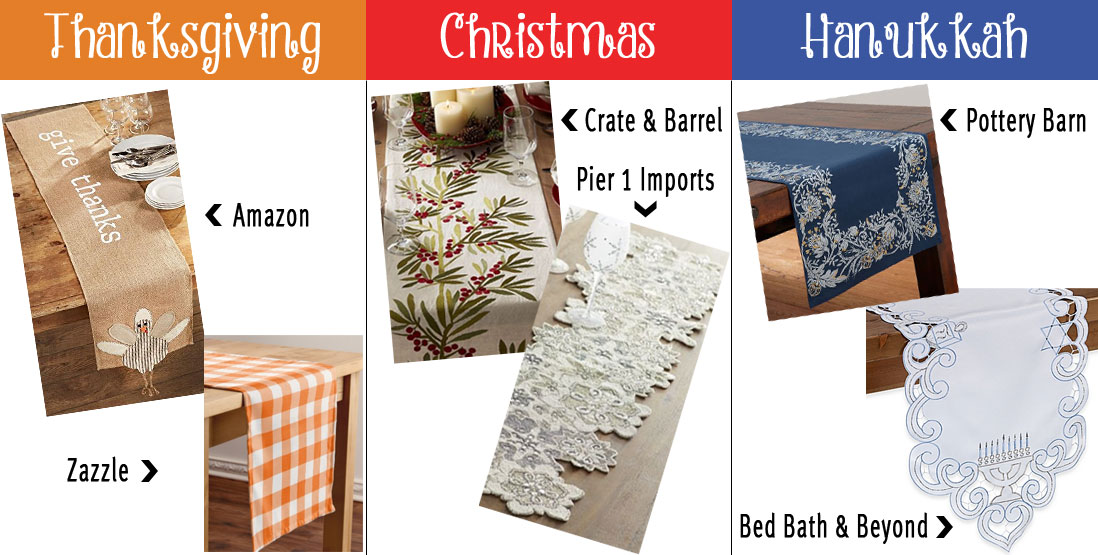 Saturday, November 19
Pillow Picking
Make a quick switch from everyday to holiday by swapping out your throw pillows. It's an inexpensive and easy way to redecorate a room and change your look for the festivity. Start an annual holiday tradition of taking family members to pick out a pillow of their choice to grow your collection. Need some ideas on places that might have good options? Check these out…
Saturday, November 26
Pretty Printables
Printables is one of the easiest ways to update the decor in your home for any occasion, especially for the holidays. What's even better? There are lots of resources on the internet that offer them for FREE! All you have to do is download, print and place it in a nice frame. Hang them on the wall or display them in a standing frame to quickly dress up your spaces. Here are some of my personal favorites…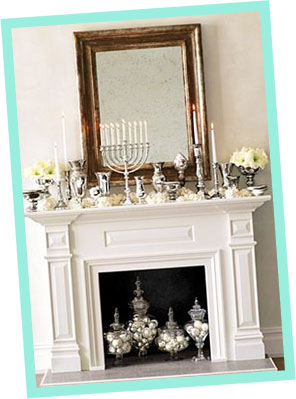 Saturday, December 3
Shimmer & Shine
The thought of decorating for the holidays can sometimes be overwhelming, but it doesn't have to be. Focus your efforts on embellishing one single area, like the fireplace mantel in your main living space. This mantel proves that all the pieces don't have to match in order to achieve an overall stunning design. Create a truly timeless look for Christmas and Hanukkah by mixing winter white hydrangeas with silver, gold, and mercury-glass.
Here are some fabulous finds to help you achieve a marvelous mantel:

Source: https://www.oprah.com/home/Genius-Hands-On-Holidays/5
Saturday, December 10
Plates that Pizazz
So much of what happens during the holiday season revolves around people getting together for food and drinks. Whether it's your company's holiday party, an ugly sweater party with friends or your traditional Christmas Day dinner with family, these get-together's always included great food, drinks, and fun. One great way to make your gathering special is by incorporating festive pieces of dinnerware.
From inspiring dinner plates to cheerful glassware, you can enrich your dining room table for any audience.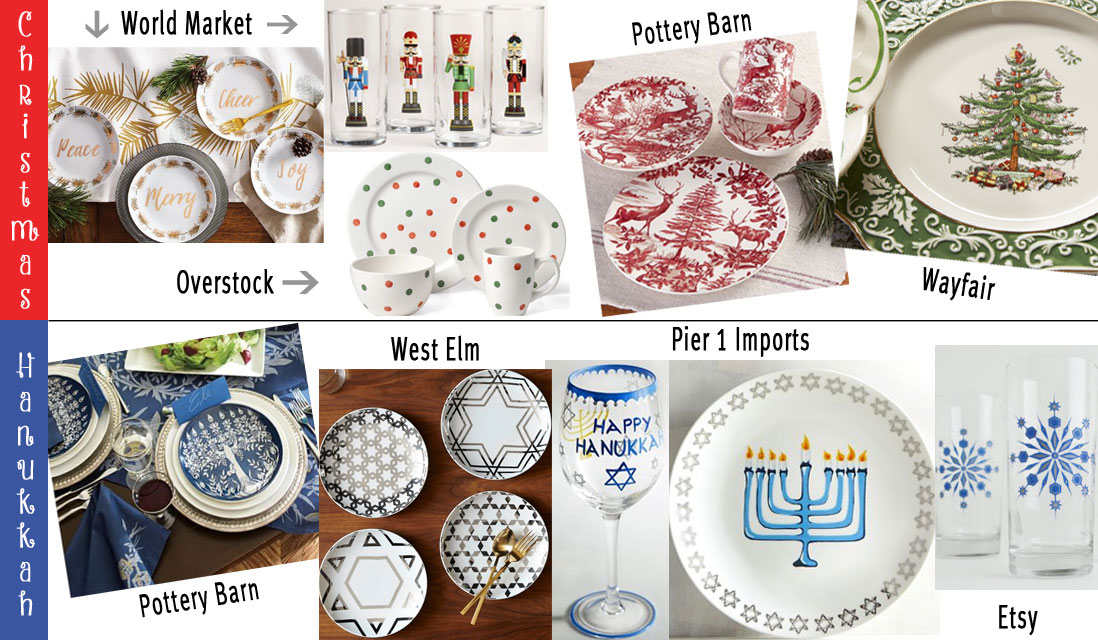 Source: https://www.wayfair.com/Holiday-Dining-C547130.html
Saturday, December 17
Personalized Place Cards
Hosting a holiday shindig involves lots of prep work, so naturally, the little details sometimes get overlooked. Place cards are one of my go-to decor choices for a holiday table, for a few reasons. First, because having an assigned seat at the table immediately sets the meal apart as a special occasion. Second, having a place card for each of your guests lets them know they are wanted and included at your table. It's a small gesture that says, "I care about you!" And finally, even the most hastily made place cards can look great, and make your table look great, too.
There's still plenty of time left to put together some great place cards for your Christmas and Hanukkah festivities. Maybe these ideas will inspire you to create some unique place cards of your own!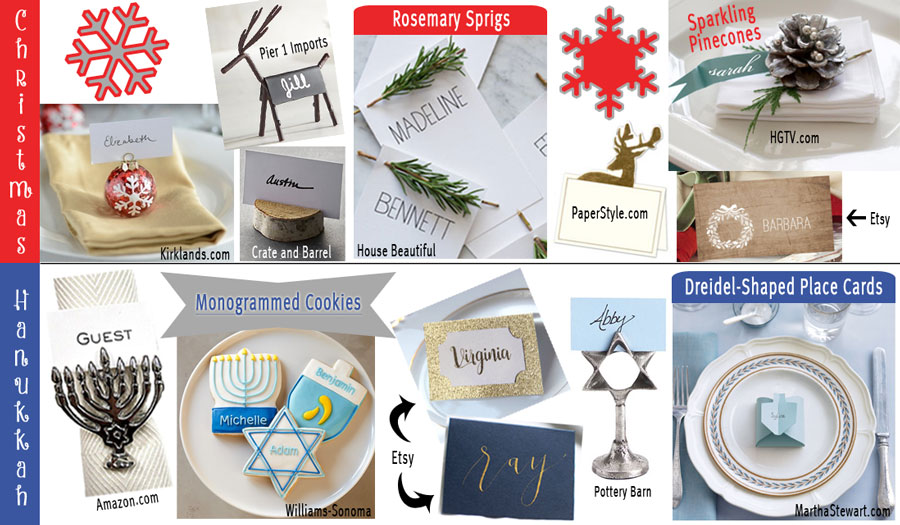 Source: https://www.onegoodthingbyjillee.com/thanksgiving-place-card-ideas
Saturday, December 24
Countdown Decor
As mentioned in one of my previous posts, embellishing your fireplace mantel can instantaneously dress up your home for any holiday. Make sure all eyes are on the time with this festive display of assorted clocks. Have fun with it and remember, there's no right or wrong way to style it!
Another fun decorating idea for ringing in the New Year is creating a noisemaker centerpiece. Simply arrange a group of colorful noisemakers on top of a cake stand and this contemporary centerpiece turns into party favors at the stroke of midnight.

Source: https://www.marthastewart.com/856543/decorations-new-years-eve
Saturday, December 31
Start 2017 with a Clean House
The holidays are coming to a close after we ring in the new year this evening. Holiday decorations need to be taken down and space needs to be found for the gifts you received, both of which can cause some disarray in your home. Not to fret. This is the perfect opportunity to get a fresh start to the New Year and freshen up your home.
Designer Constance Crosby is a fan of the Japanese tradition called "oo suji." In Japan, clearing dirt, clutter, and disorganization from the old year is an integral part of this annual tradition. Because each year is seen as separate and distinct, the final week of the old year is devoted to cleaning, decluttering and organizing. To observe oo suji, Japanese homes receive a top-to-bottom cleaning. Business offices are sorted and organized. And children clean out school desks.
Not sure where to start? Start by analyzing your home. According to Designer Betty Gail Peters, "January is a good time to do a home analysis. Take pictures of each room or area from several perspectives with your smartphone, and look at the photos on your computer. Ask the opinion of other family members, too, listing things you like and things that need your attention."
Source: https://www.pnj.com/story/life/home-garden/2015/01/05/sprucing-up-organize-and-update-your-home-after-the-holidays/21308785/