Did you know that the Environmental Protection Agency (EPA) reports poor indoor air quality as one of the top five largest environmental threats to Americans today? Think of the heating, ventilation, and air conditioning (HVAC) system in your home or business as the "lungs" of your property. We generate a lot of contaminants and air pollutants, such as animal dander, dust, and chemicals through everyday living. On average, these contaminants are pulled into the HVAC system and re-circulated 5 to 7 times per day. Over time, this re-circulation causes a buildup in the ductwork. Although a light amount of dust accumulating in your air ducts poses no significant immediate threat, there will eventually come a time when you need to have them professionally cleaned.
Eliminate Potentially Harmful Air Pollutants
Both residential and commercial HVAC systems filter dirt, dust, allergens, and other contaminants from the air circulating throughout the building. But when these air duct systems go long periods of time without proper maintenance and thorough cleaning, they reach the point where they are no longer capable of maintaining optimal indoor air quality levels.
Furthermore, if your property has recently sustained water, storm, smoke or fire damage, it's important to have your HVAC system professionally decontaminated as soon as possible, as disasters such as these tend to leave behind a number of contaminants – such as mold and mildew spores, soot, etc. – that could pose a potential threat to the health of your building's occupants.
View our service page to learn more about the in-depth HVAC decontamination process utilized by the skilled technicians at Blackmon Mooring.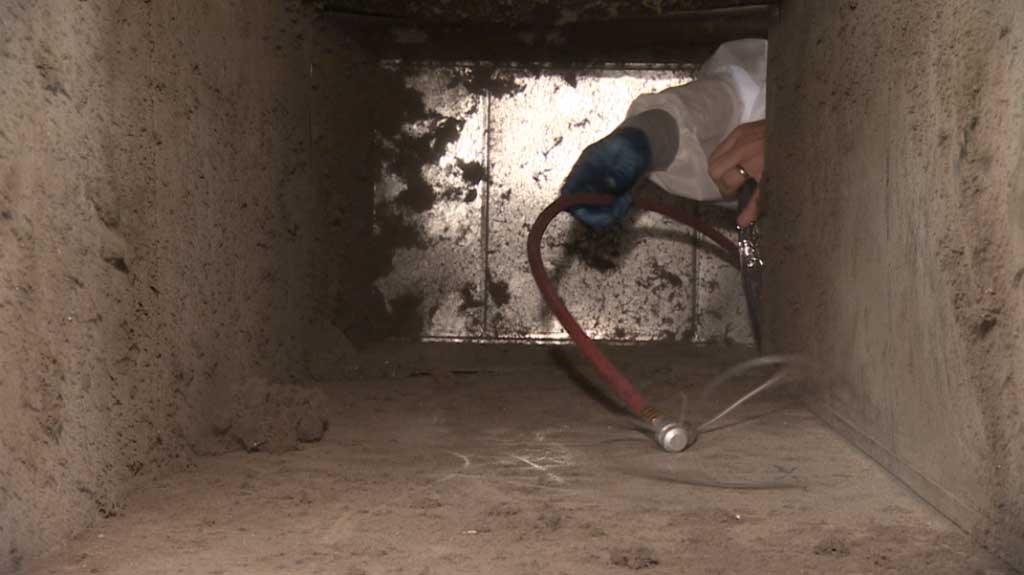 Potentially Save Money and Energy
On top of improving the quality of your indoor air, having your air ducts professionally cleaned can also have tremendous cost and energy-saving benefits. How exactly? Let's use a car that has a trunk filled with cinder blocks as an example. With a trunk full of heavy cinder blocks, the driver will have a more difficult time accelerating to their desired speed and also use more gas getting from point A to point B. So not only will the car perform inefficiently in terms of acceleration speed, but its compromised fuel economy will also cost more money.
An HVAC system that has gone years without a thorough cleaning works just the same in the sense that having an excessive accumulation of dust and other allergens hinders the ability of your system to perform at optimal efficiency levels. This means your heating and cooling systems are forced to use more energy and work harder to filter out these unwanted pollutants than they would if they were clean and functioning at maximum efficiency.
By calling on the experts at Blackmon Mooring, you'll give your HVAC system the care it needs to once again filter air with ease, which means you'll not only lessen your carbon footprint, you'll also potentially benefit from a reduced monthly utility bill thanks to your optimally performing system.
Call on the Pros at Blackmon Mooring for Proper Cleaning
While all of these benefits are compelling reasons to have your HVAC system cleaned, it's important to recognize that not all air duct cleaning companies are created equal, nor do they all adhere to the same high standards of quality as the certified cleaning professionals at Blackmon Mooring.
When we say our services are thorough, you can rest assured we mean it wholeheartedly and that we'll take as much time as necessary to ensure your HVAC system's air ducts, filters, fans, ventilators, registers and all other parts – both small and large – are cleaned to our standards.
When you're ready to start benefiting from better indoor air quality and potentially significant cost and energy savings, schedule an appointment today!