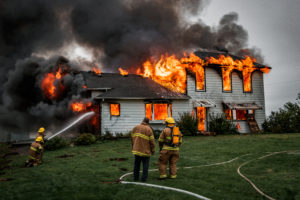 Nearly 365,000 residential fires occur on average each year. Picking up the pieces after a fire strikes your home can be overwhelming and it may be hard to know where to even start. It's a lengthy process, involving the fire department, insurance companies, contractors, and city inspectors. If you've recently experienced a fire at your home and you're wondering where to go from here, you're in the right place. This post-house fire checklist will help you identify the many steps you should take after a fire to get your home on track to recovery. Keep reading for a comprehensive post-house fire checklist.
What NOT to Do After a House Fire
Before we talk about what you should do after a fire, let's go over what you should NOT do. Do not enter your home after the fire is out until you've been given permission to do so. Fire inspectors will want to make sure the home is structurally sound and safe for you to enter. Do not turn on your homes gas, water, or other utilities on until experts have given you the OK as well. Soot is notorious for irritating breathing passageways and even your eyes so it is not advised that you enter the home without the proper protective gear.
What to Do After a Fire: Your Complete Post-House Fire Checklist
Now that we've established what not to do after a fire, here's what you should do.
1. Find a Place to Stay
Even if your home is not a total loss, it's highly unlikely that you'll be able to get back inside right away. If the damage is minor, you may only need a place for you and your family to stay temporary. If your home suffered  extensive damage you may need something more long term. Speak to your agent about the different resources and government agencies that can help you find housing and provide other necessary items after a fire. Depending on your coverage your insurance company may provide reimbursement for housing while you are displaced because of the fire.
2. Contact Your Insurance Agent and Others
Notify your insurance agent and start the claim process immediately. You can't start any repairs until you've contacted your insurance agent, so be sure to do that as quickly as possible. They can also help fund housing and other necessary personal items lost in the fire. Many insurance companies also offer loss of use funds, which provides reimbursement for any extra money spent on day-to-day expenses due to displacement. Not only do you need to contact your insurance agent, but you also should get in touch with your bank, mortgage lender, auto insurance agent (if your car suffered damage) and utility company to notify them of the incident. Many of these agencies will work with you on waiving late fees on payments while you get back on your feet.
3. Get Clearance to Enter the Home
Before you re-enter your home after a fire, make sure that the fire department has deemed it safe and structurally sound. Your insurance company may also need to provide approval for you to enter your home as well. You'll want to make sure you don't re-enter too soon, as that could impact your insurance claim. Keep in mind that if your home is not deemed structurally sound, you may not be able to enter at all without putting yourself at significant risk of injury.
4. Catalog Damaged Possessions and Retrieve Undamaged Ones
Once you're able to get back into your home, you should make a list of all the items that were lost or damaged as a result of the fire. This will help your claim to have contents reimbursed by your insurance company. If possible, gather serial numbers, make, model, and receipts of larger items such as appliances and televisions. There may be some undamaged possessions you can recover from your home. If you're lucky enough to have undamaged items, be sure to remove them from the home as homes that have recently been damaged by fires are often targeted by looters and other vandals. Renting a storage unit is often helpful in storing these items while you restore and rebuild your home.
5. Work To Restore and Rebuild
Work with your insurance agent on the next steps you need to take to get your home the financial help it needs to rebuild. Bring in an expert in fire, smoke and water damage to create a custom mitigation plan to quickly turn your house into a home again. While a house fire is a traumatizing event that no one wants to experience, the bright side is that you can rebuild your home with updated finishes and fixtures.
Moving Forward
While some fires aren't preventable, many of them are. By making sure your smoke detectors are in good working order and by ensuring you don't create any fire hazards, such as unattended candles, or overloaded outlets or circuits, you can work to prevent another fire from occurring.
In the unfortunate event of a fire, use this post-house fire checklist to help get yourself organized and on track to recover. If your home has suffered a fire, contact us for disaster mitigation. We are available 24/7 to serve you.