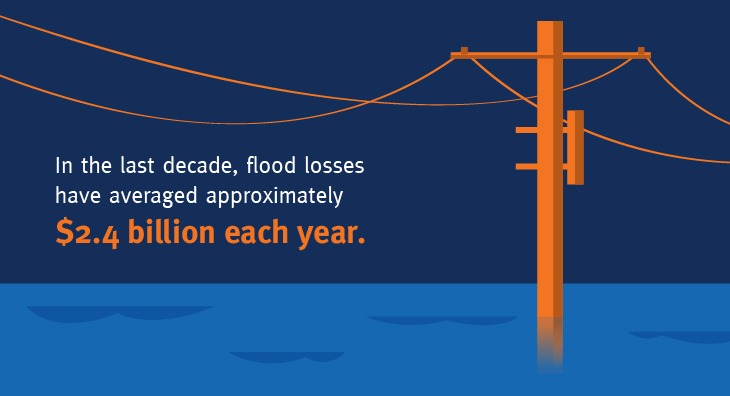 Why you should fear floods if you're unprepared
If you've paid attention to the news lately – or if you live in one of the affected regions – you know the Midwest has received massive amounts of flooding. In Iowa, Wisconsin, Minnesota and South Dakota, among others, farmlands have been destroyed and cattle tragically swept away by swollen rivers overflowing. At one point in mid-March 2019, at least 75 cities were in a state of emergency, CNN reported. In Illinois, a dozen counties were declared disaster areas by Gov. Bruce Rauner, according to the Chicago Tribune.
There's no question that the resulting damage is devastating, but you may be surprised by just how common floods are – year in and year out. According to the Federal Emergency Management Agency (FEMA), flooding is the No. 1 natural disaster in the U.S.
This means it occurs more frequently than the other natural disasters and leads to the most damage. Rainfall accompanies just about every storm, most notably hurricanes and tornadoes. Given the earth is primarily made of water, there's only so much that existing rivers, lakes and streams can absorb. In the last 10 years, every state has experienced flooding in some form, whether overland or flash. This helps explain why flood losses have averaged approximately $2.4 billion each year over that period.
Several different forms of floods
It's important to understand that there are many different types of flooding. As noted by Aon Benfield, riverine flooding is considered the most common type of flooding. It is typically associated with overland flooding that manifests when rivers, lakes and streams overflow. Rainfall flooding, as its name implies, stems from downpours that create flash flooding. Storm surges occur along the coasts where sea water is likely to invade beach houses and businesses.
Perhaps the most worrisome aspect of flooding lies in the fact that no state is immune. Hurricanes, for the most part, aren't much of a problem for business owners that reside in the Great Plains or Upper Midwest. Tornadoes can occur anywhere, but they're highly unusual in coastal states like California or Maine. This is not the case for flooding. In fact, property owners who live outside of high-risk zones submit 30% of flood insurance claims, according to FEMA.
Weather forces beyond your control affect your company's profitability. By participating in the Priority Disaster Response Program from BMS CAT, you can better control the outcome  after Mother Nature's wrath by installing the appropriate preventive measures that can minimize business interruption.