We're Right There With You When You Need Us Most
Water intrusion from leaks or flooding not only disrupts your daily routine or business operations, but can also cause significant damage to your property. During this stressful time, you need an experienced water damage restoration company to deliver custom restoration and cleanup services to help you get your home or business back to normal.
Aside from that, we can take care of the entire water damage cleanup and restoration process. Dealing with the aftermath of water damage is already stressful enough on its own, so we want to lighten your load by providing you with efficient and seamless service.
Lastly, we're always standing by to respond to your water damage restoration needs. We know that time is the most critical factor when recovering from disasters, which is why we offer 24/7/365 emergency response services.
We understand that you need your home or workplace back to its pre-loss condition in a timely manner. And as your reliable water damage restoration service provider, you can count on us to deliver high-quality work and strive for exceptional customer service when you need us most.
Feeling overwhelmed after an unexpected water leak or flooding in your residential or commercial property is normal. With that said, you don't have to work on restoring your place alone; our trained experts are here for you. When you choose us as your water restoration partner, you can expect us to treat you and your property with care and urgency.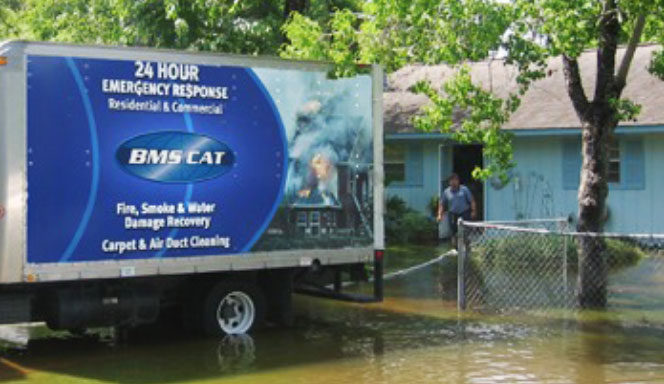 Since 1948, we have been in the business of responding to water damages of all kinds and sizes. By utilizing our decades of industry experience and professional-grade equipment, we design a customized restoration and recovery plan for your property. We understand that each and every water damage job is unique, so the plan to restore your property should also be.
At Blackmon Mooring & BMS CAT, we are always standing by to help you with your water cleanup needs. Our goal is to get to work quickly, so we can turn your house back into a home or get your business back up and running.
Our Water Damage Restoration Service
We Use Proven Solutions and First-Grade Tools To Resolve Your Unique Emergency
Why Choose Blackmon Mooring & BMS CAT as Your Water Restoration Company
We Restore Your Residential or Commercial Property and Help You Bounce Back
Reliable and
Trusted Team Of
Restoration Experts