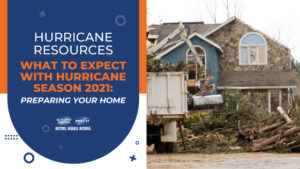 It's official. The Atlantic hurricane season 2021 has begun. Tropical Storm Ana made its appearance on May 22, but luckily burned out in the Atlantic and never threatened landfall.
But knowing that this hair-raising season is upon us, it's time to get prepared, especially if we consider how tumultuous last year's hurricane season was.
In 2020 six hurricanes made landfall, and almost the entire coastline of Texas was affected during the season.
So what is the prediction for the hurricane season 2021? The National Oceanic and Atmospheric Administration announced last month that it expects an "above average" Atlantic hurricane season in 2021.
They essentially state that Texas will be seeing more extreme heavy rainfall events and may even detect these slow-moving storms more often.
So what does that mean for us at home? Get prepared. This post looks at how to prepare for a possible hurricane, what you need to know during a hurricane, and what to do if you have storm damage.
How to Prepare for a Hurricane
If your home is along the coastline and you don't already have a hurricane preparedness plan, it's time to get organized. Here are a couple of things to do to prepare for a hurricane.
Emergency Kit: Put together an emergency kit with a few essential items including water and non-perishable food for three days and a can opener, a battery-powered radio with spare batteries, flashlights, first aid kit, whistle, dust mask, plastic sheeting, and duct tape for making a shelter, moist towelettes and garbage bags for sanitation, pliers to turn off utilities, local maps, and cell phone and charger. Also, keep copies of vital documents in your emergency kits with some cash.
Vital Information: Make sure you know to tune in to NOAA Weather Radio so you can get updates. Learn your area's flooding and hurricane evacuation routes and where the shelters are. Also, find out if your property is flood-prone or more likely to be safe during extreme weather. Are you in an area where levees and dams pose a risk when a storm hits?
Evacuation Plan: Create a plan for your family. This includes pinpointing a meeting place and routes to get there for family members that are not together at the time of the disaster. Plan how to get in touch if separated and which shelter you will go to if your community needs to evacuate.
Insurance: Do you have solid insurance that covers you for flooding and storms? If not, it's time to update.
In terms of securing your property before a hurricane hits, here are a couple of things you can do as the hurricane season 2021 begins:
Check the roof and gutters: Do you need reinforcements to make your roof and its frame stronger? Check that you don't have any loose shingles; if you do, secure them. Another point to check and reseal is around your chimney or vent pipes. Clean your gutters and downspouts and remove any clogs. Also, check that they are firmly secured and not sagging at any points.
Windows: If you live in a high-risk area, it's probably time to install permanent storm shutters to your windows. Strong winds regularly shatter windows. You could also install plywood to protect your windows during a storm.
Caulking: Waterproof your home by caulking around windows, doors, chimneys, and the edges of your house.
Reinforce your garage: You can use a brace kit or install a metal post system or even cover the door with plywood to secure your garage door from forceful winds.
Tidy up outside: Trim and cut back loose and dead branches from trees. Another good idea is to tie down or remove all loose objects in your yard, like pot plants and lawn furniture.
Tidy up inside: Protect electrical appliances from a storm by buying a surge protector and unplugging what you can during the storm. Move all valuables to a higher floor or raise them off the ground to protect them from flood damage.
When the storm is hours from arriving:

Pile up sandbags about two feet high to barricade against water.
Put gas in your vehicle and make sure it's working. Also, stock it with your emergency supplies if you plan on evacuating.
Charge your cell phone.
Turn your refrigerator to the coldest setting. This way, food will last longer if you lose power.
Listen for weather updates and evacuation instructions.
What to Know During a Hurricane
The most important thing to do is tune in to the NOAA Weather Radio and your local news stations to get updates and news on whether evacuation is necessary. If you stay at home, here is some advice.
Stay inside and away from glass windows and doors.
Don't go outside until you have confirmation that the storm has passed your area. The storm's eye brings calm, but it will bring strong winds without warning when it starts up again.
If you will be using a portable generator, follow the instructions and be safe. It should not be operated indoors.
If you're at risk of flooding, turn off the electricity and only turn it back on when advised to do so. Using electrical appliances with damaged wiring could lead to fire hazards or the risk of electrical shocks.
If authorities advise evacuation, take your emergency kit and leave immediately. Follow the evacuation routes as instructed; you never know what other risks may be around.
What to Do if You Have Storm Damage
We understand how stressful it is if a major storm has hit your community and left you with property damage.
Where do you go? How do you start with repairs? Here are a few steps you can take before calling in the professionals to come and restore your property.
Don't enter the property if dangling power lines and trees have fallen on and damaged your property. Have someone come and inspect your property before entering.
Keep out of any floodwater as it will have dangerous debris and contaminants in it.
Boil your water before drinking until you have been told it's safe again.
When the floodwater is gone, it's time to call the professionals and your insurance. A reputable restoration company like Blackmon Mooring & BMS CAT can help you with floodwater and storm damage cleanup and drying – which is essential to avoid mold growth. They will also be able to help clean and repair your property, belongings, and home's structure where needed. Once you have called insurance, start to document the damage before cleanup takes place. Take photos of all the damage.
Once you have the restoration company in to tackle the significant issues, you can tackle the more minor things like throwing out contaminated food and cleaning upholstery, clothing, and smaller items.
Suppose you are waiting on an insurance adjuster. In that case, you may likely have to make some temporary fixes until you can call the restoration company, such as boarding up windows and doors or covering up holes that may be letting in more water.
How Blackmon Mooring & BMS CAT Can Help
Local natural disaster cleanup companies can quickly become overwhelmed during storm season.
Blackmon Mooring & BMS CAT have locations strategically located across the nation to provide the most support for storm damage cleanup during times of disaster.
Our experienced team offers a range of storm damage restoration services – including emergency repairs and water removal, along with reconstruction services.
Blackmon Mooring & BMS CAT offer storm damage restoration services that have helped thousands of residential and commercial customers recover from water damage – both big and small.
Our water damage restoration company has reestablished businesses and restored communities. Blackmon Mooring & BMS CAT offer storm recovery services from hurricanes to tornadoes to burst pipes.
Find out more at www.bmscat.com.