C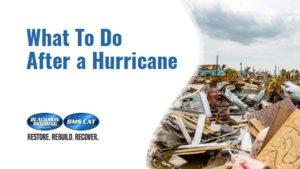 leanup after a natural disaster is a harrowing, time-consuming task. It is also very dangerous. Storm cleanup requires specific supplies, techniques, and products to clean up safely and effectively. This is where the professionals come in.
Of course, you can handle cleanup and recovery of minor damage on your own, ensuring you take the necessary safety precautions. Major recovery, on the other hand, will require working with a professional property restoration company.
The key to natural disaster recovery is a fast response if you would like to successfully and quickly restore your property after a hurricane, tornado, or flood you need to have your professional property restoration company on speed dial.
Going Back Home: What to Do After a Hurricane
It's important to take caution when traveling back home after a hurricane, as heavy winds and rain may cause dangerous debris and flooding.
We know it's stressful not knowing how your property weathered the storm, but it's important to be safe rather than rushing back home. Here are a few important steps to consider:
Listen: Find out if the authorities have any specific instructions pertinent to your area.
Wait: Don't walk or drive on a flooded road; the water can knock you down or sweep vehicles away. Also, the water may contain dangerous debris or contaminants.
Inspect: Don't go into your home or business until inspection of the building's electrical system, gas lines, and plumbing has taken place.
Photograph: Take photos of your property damage for your insurance company.
Throw out: Toss all food that has been exposed to flood water.
Assessing Your Property
When you're allowed back into your property – what is the first thing to do? Hiring qualified professionals experienced in restoration to do the assessment is always best.
However, if you want to do an assessment yourself, just remember your home is now a disaster zone with many hazards from which you need protection. So put on protective gear and enter with a fire extinguisher at the ready.
The first step is to carefully inspect the property and building for damage, and document the damage that you see to report it to insurance.
Set up barricades and post signs where appropriate in hazardous conditions.
Look for roof or chimney damage before entering.
Take note when entering, is there the smell of gas?
Turn off utilities if there is structural damage.
Don't try to unplug or turn on any electronics that have suffered water damage without being inspected by a qualified electrician first.
Avoid using the plumbing and sewage system until it's been appropriately checked.
Hurricane Checklist for Safe Cleanup and Recovery
Once you've determined your home is safe, you can start clearing out debris. Here are some hurricane cleanup safety tips to follow:
Get the GearYou need to prepare yourself for the debris you'll find in and around your home. Wear old clothes, gloves, hard hat, boots, and goggles.Take the proper precautions when handling dangerous items, and if you need a chainsaw, make sure to follow the manufacturer's instructions carefully.
Don't go AloneWork in a team as it's more than likely the things you need to move or dispose of will be heavy, and you don't want to hurt yourself during cleanup.Some items can also be dangerous if mishandled; appliances can short-circuit, and refrigerators can leak.
One Step at a TimeCleanup is not going to happen overnight. It can often take weeks or even months.Although it's essential to act fast with hazardous or water-damaged materials, you won't be able to do it all at once. Instead, prioritize the important things and take breaks when needed.
Create a Disposal PlanMake a list of what items need to be disposed of and who to call to do this. Your local government may offer free debris removal, so find out what their procedures are in this regard.
Once this is all done, call a reputable restoration company to do the next step – property restoration.
Find Reputable Storm Damage Restoration Services
It's now time to hire a professional restoration company to tackle the damages and get your property back to normal.
It's important that you work with a business with a reliable local reputation. You should make sure the organization you hire has extensive experience handling the types of damages that have occurred to your property.
Over the years, Blackmon Mooring & BMS CAT have helped thousands of residential and commercial customers recover from disasters – both big and small.
From hurricanes to tornadoes to community-wide flooding – our company has reestablished businesses and restored communities.
At Blackmon Mooring & BMS CAT, we have locations strategically placed throughout the country, allowing us to mobilize crews and equipment promptly.
Also, our 24-hour Information Exchange Center (IEC) monitors the weather, so that we can position response teams throughout the path of the storm.
In other words, we have the resources in place to assist whenever and wherever the storm strikes.
Find out more information about our natural disaster recovery and cleanup services.