Steps to Take To Ensure Your Safety & Start The Restoration Process After The Storm Has Passed
The damage your home withstands during a storm can be devastating, leaving you feeling lost and overwhelmed. Here are some important steps to take when faced with storm damage restoration.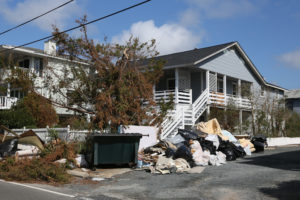 Texas is no stranger to severe weather. Even hurricanes make their way to the Texas coast and wreak havoc on homes and commercial properties. In fact, hurricane Harvey resulted in nearly 670,000 insurance claims in Texas alone.
Regardless of the type of damage your property is facing, time is of the essence. That's why it's important to quickly request professional storm damage restoration services. The quicker the mitigation and restoration process can start, the quicker your family can get back into your home.
Here are some key steps to take right after a storm passes. These tips will help move the restoration process along, and keep both you and your family safe. Keep reading to learn what you need to do in the wake of a major storm.
Safety First
Severe storms can leave behind broken glass, damaged roofs and other hazards. The first priority following a storm is ensuring the safety of you and those in your community.
It's natural that your first instinct would be to inspect your property in order to assess the damage. While this is a critical step, there are some precautions you should take. First, make sure there's no threat of electrocution. This is more likely if flooding occurred and downed power lines are close by. If this is the case, stay away from your home until the power is cut.
If you feel the roof on your property is unstable, evacuate everyone until professionals can inspect the structure. You'll also want to watch out for things like nails, sharp debris and glass. If you smell natural gas in your property after a storm, notify the gas company right away and get out. You don't want to risk injury due to gas inhalation or explosion.
Secure Your Property
Once you've taken the proper safety precautions, you need to secure your property from further damage. After a severe storm, you may have broken windows, heavy leaks and flooding. Doing what you can to help secure your property right away might make the storm damage restoration process quicker and easier.
Board up any windows that are still letting water in. You may also want to remove any valuable possessions that are at risk of sustaining damage. Standing water can cause serious problems and render your property unlivable. In addition, water intrusion may lead to mold growth, which can be harmful to the health of occupants. Quickly removing as much water from your property as possible can help prevent mold growth from occurring.
If securing your property from further damage presents an overwhelming challenge, you may want to reach out to the emergency restoration professionals for help.
Document All Damage For Insurance
Once everyone is safe and your property is secure, it's time to assess the damage. This can be an emotional process, but is necessary when filing an insurance claim.
It is crucial that you are as thorough as possible when documenting. You'll need to take photos – both inside and out. Make sure your pictures are very detailed. If major appliances or furniture are damaged, take pictures of the damage, as well as any manufacturer identifiers. This will help determine the replacement value. You'll eventually need to organize the photos by room. This will make the claims process much easier.
Carefully inspecting the outside of your property is very important as well. Take your time, as damage can sometimes go unnoticed at first. Look for damage to siding, roof shingles and window frames. You should also check the outdoor HVAC unit for any damage.
Although the documentation process may seem like a hassle right after a storm has passed, it is critical if you want to recoup the right amount for your losses.
Get in Touch with Your Insurance Company
You'll most likely know right away if you're going to claim the storm damage on your insurance – which will depend on your specific policy. The sooner you get in touch with your insurance company, the better. Waiting will only make the claims process longer, especially if a natural disaster affected a large number of people in your area.
A good rule of thumb is to always have your insurance adjuster's information in your phone. This ensures you can get a hold of them if your files get lost or damaged in the storm. It's also important that you're there when the adjuster comes to inspect the damage. This way you can go over all the issues with them so they can provide an accurate claim estimate. All the documentation you gathered will come in handy now. Make sure your adjuster gets this information and understands everything.
You should also include any receipts associated with the event and resulting damage. This would even include hotel receipts if you were displaced as a result of the storm.
Find Reputable Storm Damage Restoration Services
It's now time to hire a professional restoration company to tackle the damages and get your property back to normal. It's important that you work with a business with a solid local reputation. You should make sure the organization you hire has extensive experience handling the types of damages that have occurred to your property.
If a major storm has damaged many properties in your area, be wary of scams. Some fraudulent contractors prey on victims of storms, overcharging for sub-par services. Instead, take your time and find an experienced professional that can restore your property from top to bottom. Check out a company's track record before you hire them to ensure they provide high-quality craftsmanship.
Take These Steps to Get Back on Your Feet Fast
Whether it's a home or business, your property is your livelihood. After you've been through a severe storm, it's important you take the steps discussed above in order to recover as quickly as possible. Working with a professional storm damage restoration provider will allow your property to return to its pre-loss condition sooner rather than later.
Blackmon Mooring & BMS CAT provide a variety of restoration services to both residential and commercial properties throughout Texas and Oklahoma. Contact us the second the storm has passed for expert mitigation, restoration and reconstruction services.