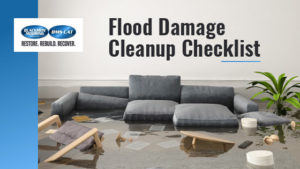 Flood damage cleanup can be a stressful time, no matter if it is a small or devastating flood you are dealing with. It takes a lot of time and patience – and good old fashioned hard work. This can be particularly challenging for businesses, with the pressure of getting things up and running again quickly.
Your Checklist for Flood Damage Cleanup
Insurance: Document your damage and call your insurance company to find out the procedure. They should be able to recommend a reputable flood damage restoration company.
Remove items: Once it's safe to enter the property, your restoration company can start removing all furniture and personal items that need to be restored. Most companies will have warehouses to store the items they will be restoring and can utilize specialized equipment to remove moisture and dry out your contents.
Water Extraction: Any and all standing water needs to be removed as soon as possible. The longer that water sits unaddressed, the higher the chance that secondary damage can occur.
Drying: In addition to ventilating the property, the professionals will bring in fans and dehumidifiers to start drying the structure. Dehumidifiers also help to stop a musty smell from developing.
Safety Tips for Flood Damage Restoration
Turn off electricity: This should be the first thing you do, you don't want to step into dangerously live water. Call an electrician to inspect the property if necessary.
Structure: After a severe flood, have a professional check your building structure hasn't been destabilized.
Disinfection: Once all the water is out, you'll need to disinfect the ground and walls. Mud and sewer water can cause serious health issues – so trusting a professional restoration company is essential.
Mold: If your property isn't dried out quick enough, there's a chance mold and mildew will start to grow. This poses a health risk. You will need to have professionals come in to assess any mold issues you may encounter.
Flood Damage Repairs 101
Our team of experts will assess all of the items below:
The Walls: Open up the walls, as mold growth and wood rot are difficult to spot. We may need to pull out drywall until just above the waterline. Remove any wet insulation and clean away possible mud. Fans and dehumidifiers should be used to carry out the drying.
Floorboards: Hardwood floors stand the chance of buckling, so it's best to remove one floorboard every few feet. Then move on to cleaning and sanitizing the boards before replacing them or making any necessary repairs.
Floor Tiles: Remove your sheet or tile flooring, as we will need to dry your subfloor.
Wood Subfloors: Drying any wood subfloors can take some time. Swelling and warping is a possibility, so it's vital to do a thorough job. Any plywood or OSB subfloors that have been submerged in water will need to be replaced.
Walls and Trim: If you're lucky enough to have some items, like walls, floors, and woodwork that have not been affected by water, we will still need to clean and sanitize them, as they may still be contaminated with mold growth.
It's important to note that flood damage cleanup is a process, but the first step to recovery is to contact a reputable flood damage cleanup company.
Flood Damage Restoration Consultation
As you can see, flood damage restoration is more than just cleaning and repairing places that water has touched. You have to take into account how water affects your property, possible mold growth, as well as the contents within.
Flood damage cleanup companies can provide you with all the tools and options that you need to get your property back to its original state. At Blackmon Mooring & BMS CAT, we can handle the entire flood damage recovery process.
Contact us today for a free consultation and learn why homeowners and big businesses trust us to help them recover after natural disasters and emergencies of all sizes.