How to Prepare Your Home for Spring Storms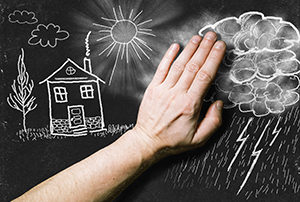 Spring means warmer temperatures and blooming flowers, but it can also mean unpredictable weather. During spring, cold air from the north clashes with the humid, warm air from the Gulf of Mexico setting the stage for intense weather. With high winds, flooding, hail, tornadoes and thunderstorms, spring storms can cause tremendous damage to your home.
No matter where you live in the U.S., the chances of experiencing a severe storm such as a tornado or thunderstorm is greatly increased during the spring time. You can protect your home from costly damages by providing proper maintenance and preparing it for inclement weather.
Your home's checklist
Check your roof
Your roof is your home's first defense against the elements associated with spring such as hail, rain and strong winds. Any small issues in your roofing structure can result in extensive damages. For example, a damaged shingle may allow rain to leak into your home causing water damage. Oftentimes, a water damaged roof can be hard to spot. By the time the issue becomes noticeable, it may have developed secondary mold damage. The time and cost of having a roofing professional inspect and maintain your roof is significantly lower than the cost of water and mold damage mitigation.
Check and clean your gutters
Spring is considered the rainiest season of the year, and your gutters are designed to move rainwater from your home to a designated drainage area. A home with a failing gutter system is asking for damage to its foundation. Water has the potential to cause erosion due to soil washing away each time it rains. Over time, this causes your home's foundation to shift and crack. Repairing and getting your gutters cleaned ensures that they are working at their full potential to protect your home and wallet.
Check the pump
As the spring saying goes, "April showers bring May flowers" and those spring showers can be heavy. If your home has a basement, it's crucial to check your sump pump before heavy rainfall. Cleaning debris, checking electrical components and running a quick test with a bucket of water, ensure that it's fully functional. It's recommended that your home's sump pump is replaced every 10 years. Having a plumbing professional inspect your sump pump can prevent a flooded basement.
Prepare a disaster kit
Spring thunderstorms can knock your home's electricity out. You can prepare your home by keeping candles, a backup generator, battery powered flashlights and a first aid kit handy. You can see a full list of storm supplies recommended by FEMA here.
Sometimes preparation isn't enough
Spring weather is unpredictable, and can present weather ranging from beautiful sunshine to extreme thunderstorms consisting of high winds, heavy rain and even hail in a matter of minutes. Prepping your home for the unexpected is your first line of defense against damages, but disasters can happen. Blackmon Mooring & BMS CAT have been a leader in the disaster restoration industry since 1948 and we know that they can strike without warning. Our experts stand by 24/7 to help your home and family through some of the most difficult times you can face. Contact us today if your home has suffered storm damage.