How to Prepare your home for Winter Weather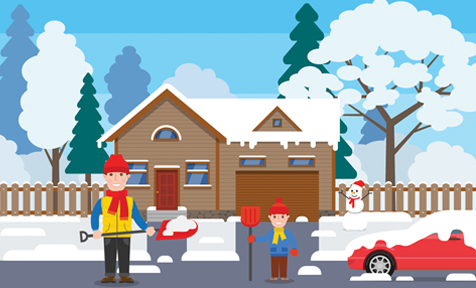 Winter weather brings unique challenges, such as strong winds, extreme cold, snow, ice and even blizzards. If you've ever lived in an apartment in a city like Chicago or perhaps smaller Milwaukee, you know how this feels. Protecting your home against these elements are crucial in preventing damage caused by winter weather. Here are a few tips that can help to protect your home against costly repairs.
Clean out the gutters. Throughout the year, debris like dirt and fallen leaves accumulate in your gutter system. It's important to clean the debris to rid any blockage and ensure that your gutter system is functioning properly. A gutter system that has a blockage will allow water to pool and during cold winter nights, the water may freeze. Water expands as it freezes, which can cause damage to your gutter system such as cracks. Prevent costly gutter repairs by routinely clearing debris or installing gutter guards.
Protect your pipes. Science tells us that water expands as it freezes. As a result, when the water left inside your pipes freeze, cracks can occur and the pipes may burst. Burst pipes have the potential to create a serious water damage situation, and the repairs can be extremely costly. Remember to drain outdoor faucets and sprinkler systems to prevent those pipes from freezing. Also, insulate water pipes that run-through unheated areas of your home. Lastly, allow indoor faucets to drip – moving water is less likely to freeze.
Trim trees and remove dead branches. Snow, ice and extreme cold cause tree branches to become brittle and fragile. This factor, in combination with high winter winds, is a recipe for broken branches that could land on your roof or car with no warning. Prevent this from happening by trimming trees near your home, as well as removing dead branches. Dead branches are already compromised and are especially susceptible to breakage in the winter.
Inspect your fireplace and chimney. There's nothing like the warmth of a cozy fire on a cold winter day…but make sure your fireplace and chimney are clean before lighting that match.  A dirty chimney and fireplace are serious fire hazards that can result in devastating damages to your home. The National Fire Protection Association suggests that you should have your chimney swept once a year to remove dangerous soot and debris. Protect your home by contacting a local professional in your area to have your chimney inspected and cleaned.
Check your roof. Damaged or missing shingles on a roof compromises that homes insulating system. Due to this fact, the heating system will have to work harder to keep the home warm – possibly increasing your electric bill. In addition, missing or damaged shingles allow water and moister to seep into the roofs foundation, creating an opportunity for mold to grow. Replacing shingles immediately may save you money in the long run from both costly electric bills and mold damage related repairs.
We can help
We understand the unique challenges your home faces due to winter weather, and we are here to help when disaster strikes. As experts in water damage restoration, mold damage remediation and fire damage cleanup, our teams can develop an appropriate plan of action to restore your property after damage. Contact us at [bpl_main_phone] to learn more about our disaster restoration services.